Smethport Web — by Les Jordan Jr.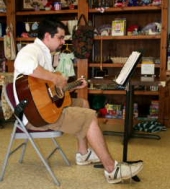 The first Arts and Artisans show was a great success in Smethport. The show, which was held in conjunction with the Wheel Around the Hub Bicycle Race on Saturday, Sept. 20, drew good crowds for participating vendors and musicians.
The Country Porch Café and Gift Shoppe sponsored the "Smethport Route 6 Artisan Show" along the 100 block of W. Main Street. Artists from around the area offered their fine art for sale throughout the day while bicyclists raced along Main Street.
The Smethport Creative Arts League sponsored an art display that also included local musicians during the late afternoon hours at the Smethport Visitors Center. Grade school children displayed their work. Musical groups, Simple Faith and Mike Roche, provided talented musical shows attended by the public.
"An even larger artisan/arts show is being planned for next year", stated Jackie Taylor, owner of the Country Porch.