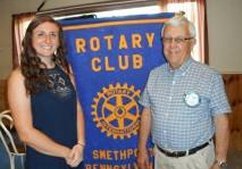 Smethport Web — Rotary Club
Brooke Kane-Walker, valedictorian of the Smethport Area High School Class of 2016, has received the $1,000 scholarship awarded by the Smethport Rotary Club.
She spoke about her school activities Tuesday at the weekly meeting of the Rotary Club at the Desert Rose Café.
Kane-Walker, who plans to major in biology with a pre-dental track at St. Bonaventure University, has a career goal of becoming an orthodontist. She thanked the Rotarians for the scholarship, saying, "It will really help a lot."
At Smethport High, she was student council president, and member of the National Honor Society, various bands, stage crew yearbook staff and envirothon team.
She has excelled in volleyball and softball. A four-year letter winner in volleyball, she was selected Rookie of the Year and named to the North Tier League's First and Second All-Star Teams.
In those same years, her play on the softball diamond brought her numerous honors, such as Team Rookie of the Year, Team Defensive MVP, North Tier League First all-Star Team, Big 30 All-Star Team, Big 30 Co-Player of the Year and North Tier League Player of the Year. Twice she received honorable mention status for the All-Star Team.
Saying she "liked to help people," Kane-Walker told how she took an active role in organizing the American Red Cross Bloodmobiles at Smethport High and organized a bake sale with the profits benefitting a local family who lost their home in a fire.