Smethport Web – by Nathan Muller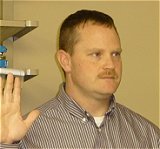 Wayne Foltz was sworn into office by Magisterial District Court Judge Bill Todd at last evening's Borough Council meeting. The Mayor's wife, Lisa, took part in the ceremony by holding the Bible upon which the Mayor took the oath. Foltz is captain in the Smethport Fire Department and a former Smethport Chamber of Commerce president. He is currently employed as district manager at Universal Well Services in Bradford.
Council members Greg Rounsville, Josh Costa, Kent Herzog and Jeff Tanner were sworn into office, having won reelection last year. Leo Church, the newest member of the Council, was also sworn in by Judge Todd.
By unanimous vote, the Council reelected Greg Rounsville as President and Brian Gustafson as Vice President.
Borough Secretary-Treasurer Cheryl O'Rourke was reappointed to her position by unanimous vote of the Council.
Erik Ross was reappointed as Borough Solicitor. The firm of Berkheimer Tax Administrator, Inc. was reappointed as the Borough's wage tax collector and Barbara Peterson reappointed local service tax collector ̶̶ all three by unanimous vote of the Council.
There were three vacancies on the Sewer Authority, but four names for consideration. The Council chose Pete Mader, Brad Cole and Ben Ball to fill the available seats.
There were two re-appointments to the Hamlin Lake Municipal Authority: Mike Dodge and Anita Johnson.
The Borough's Tax Collection Delegate and Alternate, Sue Jordan and Mary Jo Kreiner, were reappointed by the Council.
Also reappointed were Hamlin Memorial Library Directors Natalie Lundgren, Louise Pavlock, Anne Holcomb, Peter Digel, and Mike Alfieri.
After meeting in executive session, the Council approved a reorganization of the Smethport Police Department. Brian Gustafson is now part-time Chief of Police and Pat Warnick is now full-time Assistant Chief of Police at his previous salary as Chief of Police.
Update: State rule changes for Boroughs in 2012 disallow Council members from simultaneously holding the position of Chief of Police. Accordingly, Brian Gustafson stepped down from that position and was replaced by Pat Warnick.