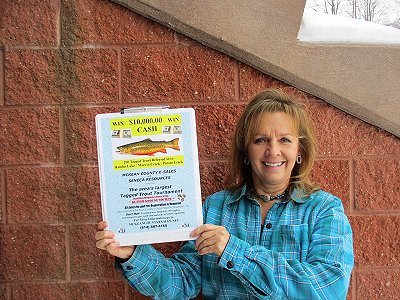 Ruffed Grouse Society – by Mary Hosmer
April 13 is the opening day of trout season and somewhere in Hamlin Lake, Potato Creek, or Marvin Creek lives a trout with a special tag worth $10,000. Any of the 200 tagged trout caught from 4/13 through noon of 4/20 will receive a prize, but one specially-tagged trout is worth $10,000. The Ruffed Grouse Society and McKean County E-Sales are offering this trout tournament to the public as a way to celebrate the rich heritage tradition of the "opening day of fishing season."
All anglers wishing to claim any of the prizes from tagged trout they catch must register, in advance of the trout tournament, in person at McKean County E-Sales at 311 West Main Street of Smethport prior to 7:59 a.m. of Saturday, 4/13. The trout tournament officially starts at 8:00 a.m. on Saturday, 4/13, and anglers must be registered in advance to be eligible to claim any prizes. "Over the years, the tagged trout tournament has benefitted multiple non-profit organizations, and now we have partnered with the Ruffed Grouse Society," says Perry Burdick, owner of McKean County E-Sales and organizer of the trout tournament.
The main fishing hole for the trout tournament will be at Hamlin Lake in the hub of Smethport, but tagged trout will also be stocked into Marvin Creek and Potato Creek. The opening day of trout season is a community affair, so this year at the trout tournament, anglers will also be able to enjoy themselves at the community event with hot chocolate, donuts, dogs, and drinks; gun raffle tickets; and 50/50 raffle tickets.
Information will be available about the Ruffed Grouse Society in McKean, Elk, Cameron, and Potter Counties, and what the Ruffed Grouse Society does for youth, women, and habitat. "This just seemed like a logical fit for us," said Brenda Walker of Clermont and an active member of the Ruffed Grouse Society, "because hunters are also anglers. As we fine-tune the opportunities for the weekend, we will be keeping you all informed."
"We want to really step out here and recognize Seneca Resources Corporation, LLC, for helping this community event to become bigger and better this year," said Brenda and Perry. "Thank you, Seneca Resources, for your involvement with this family-oriented, community event that is also going to benefit Ruffed Grouse Society programs."
Anybody or any other organization that wants to help with a financial donation or a prize for a tagged trout should contact Brenda Walker at brendawalker@hughes.net or go to the McKean County E-Sales Facebook page for more information as the event nears. All donors of funds or any prizes will receive verification from the Ruffed Grouse Society, a 501-c-3 organization for tax purposes, a supporter decal, and recognition at the event.