Smethport Web — by Nathan Muller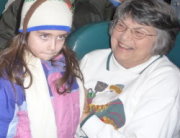 For the 10th consecutive year, Senior Center members boarded a McKeirnan school bus, driven by Judy Carlson, to view and judge the outdoor lights in the Smethport Borough and along E. Main Street to Myra's restaurant.
The Chamber of Commerce put up cash awards of $50.00 for 1st place, $30.00 for 2nd and $20.00 for 3rd place.
About 20 judges left the Senior/Visitor's Center at 6:00 pm on Thursday, accompanied by carolers Judy Barr, with sons Andrew and Aaron, and daughters Katie and Ema.
First prize went to Jim and Georganne Sample of 222 East Water Street. Second prize went to Todd and Lori Smith of 108 West Green Street. Third prize went to Dean and Tara Morey of 203 Nelson Street.
Honorable mentions went to the McKean County Courthouse and the Boy Scouts for their displays.
Following a festive evening of judging, the event concluded with hot chocolate and cookies served at the Center.