Smethport Web — by Les Jordan, Jr.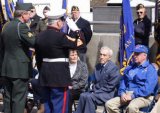 Shortly after 10:00 a.m. on Saturday morning, April 24, a line of Legion Riders led a group of distinguished prisoners of war and families of prisoners of war from the Courthouse in Smethport to the Route 6 bridge over Potato Creek on the boundary of East Smethport.
The purpose of the escort was to honor all POWs and MIAs from all branches of the service over the years in a dedication ceremony of the recently reconstructed highway bridge as the "POW/MIA Memorial Bridge."
Jack Rosenswie of the Bucktail Post #138 in Smethport served as the Master of Ceremonies for the honorable event.
In his welcome, Mr. Rosenswie stated, "Today is a very special day of Honor for the people of all communities of this region. We are here today to name this bridge in honor of all POWs and MIAs" and then noted it was "a time to pay our respect to honor all POWs and MIAs from not only our region, but all regions across our great country from all wars."
Following the invocation by Bucktail Post Commander, Seth Digel, Rosenswie stated that "America's greatness of freedom is endowed by our creator and preserved because of the heroes who served this great country in all wars. Today, we honor heroes!"
After quoting Ronald Reagan, who stated in his 1982 State of the Union address that, "We don't have to turn to the history books for heroes… they are all around us," Rosenswie continued, "To the POWs and their families that we honor today in the naming of this beautiful bridge over Potato Creek in your names—this day is yours to cherish forever."
After Vietnam War veterans George Tufts and Jim Hauck led the posting of the colors, the Pledge of Allegiance to the Flag, and the National Anthem, Rosenswie introduced living POWs and family members of deceased POWs to the crowd gathered along both sides of the bridge.
The distinguished living POWs were Robert L. Cochran from Smethport and William M. Englehart of Kane.
Mr. Cochran served in WWII in the Army Air Corp and flew in a B-24 bomber. His aircraft was shot down over Germany in 1944 and he was captured. He became a POW at Stalog Luft 4.
Mr. Englehart served in the Army in Korea with the 7th Cavalry Regiment. He was captured in 1951 and was liberated in 1953. Englehart received the Korean War Medal with 10 Bronze Stars and the Purple Heart.
Four deceased POWs were represented by family members and friends during the dedication. They included William Barton Jr., Orville C. Smith, Lloyd L. Fiscus and Gerald C. Canaan.
William Barton Jr. of Smethport was represented by his son, Bart Barton. His dad was a B-24 bomber pilot in WWII who was shot down over Munich, Germany in 1944 before being captured and placed as a POW in Stalog Luft 1. He was liberated in 1945.
Orville C. Smith of Smethport, who was represented by his daughter, Babette Sample and her sister, Linda, served in the Army Air Corp during WWII where he flew as a gunner on a flying fortress. His craft was shot down over Germany in 1944. He was captured and placed in a prison camp in Austria. He was liberated a year later.
Lloyd Fiscus, a Kane native, was represented by his son, Rod Fiscus. Lloyd served in the Army in an artillery unit, was captured in France on his mother's birthday on August 29, 1944 and escaped in May of 1945 with the help of a German cook. Lloyd later served in the Korean War.
Gerald Canaan, represented by his classmate, Anne Potter, was a Navy aviator on the aircraft carrier Bonne Homme Richard. His Navy Corsair was shot down over North Korea in November, 1951. After bailing out of his aircraft, he was captured by the North Korean forces and became a POW in the Manchurian Camp.
George Tufts and Jim Hauck, both dressed in military uniform, stood with a formal salute in front of each guest being honored as Rosenswie described their ordeal as a prisoner of war.
State Rep. Martin Causer then provided additional remarks honoring our POWs and MIAs. He noted that it took two years to secure the proper legislation to allow the naming of the bridge dedicated to POWs and MIAs.
During a fly-over by Smethport Legion Post member and Vietnam War Veteran, Jim Buerk, Rosenswie stated, "Let the sound of the aircraft signify the sound that all POWs and MIAs longed to hear when in captivity. Let the wing dipping salute of the pilot's wings embody the quest of this great country to never stop looking for our POWs and MIAs by air, land and sea. It also shows the love and comradeship we have for each one of them. Keep them in your hearts and prayers."
Following prayers led by past post commander, Deb Tufts, the dead were honored with a Wreath Laying Ceremony, volley and taps.
Several remarks were then offered by McKean County Commissioners, Al Pingie and Judy Church, Smethport Mayor Ross Porter, Keating Township Supervisor Cecil Gallup, Legion Riders President Gerry Ford, McKean County Veterans Services Director Matt Windsor, Babette Sample, and a member of the Stryker Brigade of the National Guard.
Then Robert Cochran and William Englehart cut a black ribbon stretched across the bridge.
Three youths from the Smethport area — Brandon Higley, Emily Higley and Tristen Taylor — led a Christening Ceremony by pouring water over the black POW/MIA flag draped over the concrete side-wall of the bridge.
Legion Riders and others then filed by the honored guests to shake hands and give embraces as a way of showing respect and honor for the sacrifices these men made as POWs.
Following a brief benediction by Seth Digel, the dedication came to a conclusion when the back cloth covers were removed from the highway signs placed at both approaches to the bridge.