Smethport Web — by Jennifer Stambaugh
What in the world do these things have in common? If you guessed art, you are right on the ball!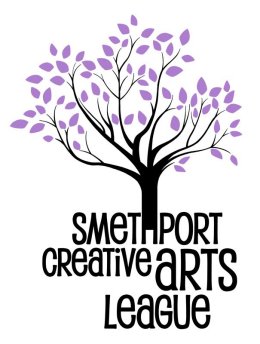 The Smethport Creative Arts League will be hosting a member and guest art show at the Hamlin Memorial Library in Smethport, PA from September 17th – September 23rd, 2009. This year's theme is the artists own take on the Color Wheel. There will be an opening reception on September 17th from 7:00 PM – 9:00 PM at the Library.
The show will be open to the public during regularly scheduled library hours. The title of the show came from a combination of the art show theme and also the bike race weekend. So please come out and "Ride the Color Wheel" and support the many talented artists in the area.
The Smethport Creative Arts League is also hosting a children's clothesline art show to be displayed in the Smethport store fronts on Main Street from September 17th – September 23rd. Children's works will be strung across the store fronts on a clothesline in true art form fashion. There will be a map depicting which child's work is in which stores window available to those that are interested.
The League would also like to thank all those who entered the Logo Competition. We received some very wonderful entries. We would like to announce the winner of the Logo Competition – John Keppel. He won a $15.00 gift certificate to Dick Blick Art Supplies and a T-shirt depicting his logo. We hope you all enjoy his works as well as we do. You can see more of his works at www.johnkeppel.com/.
The Creative Arts League has regular monthly meetings on the 1st Tuesday of every month at Hamlin Memorial Library in Smethport. There is usually something exciting planned for each month, a demonstration, a tour, a workshop, an event, etc…
On October 17th, 9:00 AM – 12:00 PM there will be a portfolio workshop that will explain how to put an artist portfolio together and also discuss the PA Wilds Juried Artisan Program among other things.
For more information on any of these events, our meetings, joining the league, or other events going on with the Smethport Creative Arts League, please contact Jennifer Stambaugh at scal@smethportpa.org or via telephone at 814.642.7635.