Smethport Web — by Les Jordan, Jr.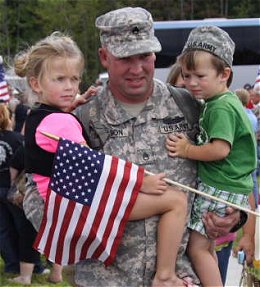 Lingering hugs, gentle tears and the embraces of small children snuggled in the arms of their beaming fathers became the standard view as soldiers form the 56th Stryker Brigade Combat Team Charlie returned home on Sunday afternoon, Sept. 13.
Several of the National Guard members were from the Smethport vicinity. Their arrival at National Guard Team Readiness Center adjacent to the Mt. Alto airport was crowded with family, friends, veterans and support groups from around the area. Signs of support lined the roadways leading to the center, American flags waved in the wind that streamed across the grass in front of the center and yellow ribbons adorned the trunks of new trees recently planted along the parking lot on the side of the center.
They arrived in style; motorcycle groups from around the area lead the way as a giant convoy turned off of Route 59, traveled under a giant arch formed by two aerial trucks from the Kane and Ridgway Fire Departments complete with a giant American flag attached at the apex of the extended ladders, and proceeded down the twisting road leading to the reception center. The returning soldiers traveled in a stylish bus from the Fort Dix, NJ area where they had embarked earlier that morning.
The men of Charlie Company had completed a tour of Iraq for 8 months where they had helped train Iraqi soldiers to take over their jobs.
Sirens wailed in a gesture of respect and joy that the group was safely at home where hundreds of people stood gathered to embrace the soldier's arrival.
It was a grand moment.