Smethport Web — by Jovanna Porter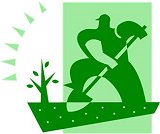 Would you like a new tree planted in front of your property?
Borough residents can request a new tree, at no cost, by completing a short application and returning it to the Borough office. Applications can be downloaded and printed or picked up at the office.
The Shade Tree Commission will evaluate all requested planting locations. A request is not a guarantee of having a tree planted, but will start the evaluation process, and every effort will be made to fulfill the request with a tree appropriate for the location.
The Smethport Borough is completing the third and final phase of the Borough Reforestation program, and will be planting shade trees on the Borough owned "tree lawn" areas during the fall of 2011. Typically the tree lawn is the area between the street and the sidewalk. In some cases the Borough owned tree lawn may extend to the area between the sidewalk and the house.
Trees are well known for the many benefits they provide. They provide shade to keep structures cool in the summer, absorb a tremendous amount of storm water runoff, clean the air of CO2 while emitting oxygen, and generally raise property values. An online tool is available to calculate the economic and ecological benefits of your tree.
Over the last four years 118 new trees have been planted throughout the Borough. During the same time frame over 120 hazardous and dying trees have been removed. For the most part, removals have been completed by Borough employees who additionally have facilitated the planting of many of the new trees.
A wide variety of newly planted tree species can be enjoyed throughout the Borough. Each has been carefully matched to the growing conditions of the specific planting site where they are located. Criteria such as soil compaction, width of planting site, and overhead and underground utilities are some of the factors that have to be considered when selecting a tree species.
A stake will be placed at all approved sites near the time of planting. Property owners are requested to leave the stakes in place to facilitate PA One Call and the actual planting process.