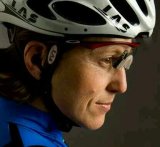 Smethport High School graduate (Class of '87), Liz Reap Carlson, is in Manchester, England this week to race at the 2011 UCI Manchester World Cup, to be held at Britain's National Cycling Center.
Reap is one of two female track sprinters entered in the event for the United States. She and teammate Cristin Walker of Houston, Texas will compete in the Women's Team Sprint on Friday, February 18th, 2011.
"Cristin and I first started riding the Team Sprint together at camp in January and as our times started to drop we became competitive," says Carlson. "We traveled to China in January for the Beijing World Cup and placed well enough to score Olympic qualification points."
The Team Sprint is two-person time trial covering 500meters. Both riders line up on the track, side by side, and start simultaneously from a countdown. The first rider is held by a gate, with the second held by an official. The first rider's goal is to accelerate the pair up to maximum speed in 250 meters; the second riders' job is to finish the distance in the least amount of time.
In track cycling, the qualification process for the 2012 London Olympic games is underway with the 2010/2011 World Cup season. The Team Sprint is one of the main events being used to qualify sprint athletes for the London Games.
"Right now, we're focused on dropping time and getting faster," adds Carlson. "We need to race smart, race confident, set personal bests and score more points."
"Everything we do today brings us closer to qualifying for the Olympic games."
Postscript: Carlson and her partner, Cristin Walker, turned in a time of 36.054 in Manchester, just 1/10 of a second off their best.