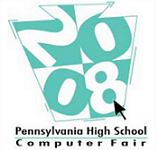 The 7th annual Seneca Highlands IU-9 Regional Computer Fair Competition was held April 8 in Smethport. Over 20 students submitted projects in various computer-related categories. There was also competition for the 2009 Computer Fair logo, which will appear on materials, caps and T-shirts publicizing next year's event.
This year's regional competition was administered by Instructional Technology Specialist Karl Roeper. The projects were reviewed and scored by 7 judges according to how well students met various development criteria.
The top winners…
Computer Fair logo: Lacey Gosnell (Ridgway)
Desktop publishing: Holly Burdick (Smethport)
Digital movie creation: Vince Pasarella (Bradford)
Graphic design: Naomi Keller (Coudersport)
Multimedia presentation: Ben Hooftallen (Austin)
Web page design (curriculum-based): Randy Tassone (Johnsonburg)
Web page design (information-based): Shelby Harvey (Johnsonburg)
The winners compete with finalists in other regions to determine who will exhibit at the Pennsylvania High School Computer Fair to be held May 20 at Dickinson College in Carlisle.