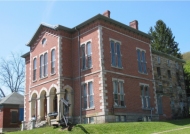 The McKean County Historical Society and Old Jail Museum on 502 W. King Street has reopened after its winter hiatus. The county's oldest building, constructed in 1875 and used as a jail until 1990, houses an impressive collection of historical artifacts and genealogical records.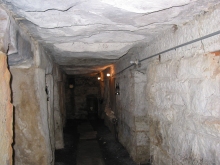 The museum's many features include a dungeon (right); oil, lumber and wildlife exhibits; railroad memorabilia; weapons; and a library for use by members. The nation's largest collection of historical relics from the Civil War's Bucktail Regiment is housed in the museum.
Despite the dungeon for holding unruly prisoners in stone block cells without light or heat, the prison was once ranked number 5 out of 450 county prisons nationwide.
The building was also used to carry out executions. Ralph Crossmire, who was convicted of murdering his mother, was hanged there in December 1893. On the scaffold he announced to the viewers that if he was hung he would return to haunt the jail.
The Historical Society has prepared a new exhibit depicting "The New Deal in Pennsylvania – 75 Years." Relevant items on loan include photos, newspaper stories, posters, and literature. Donors are acknowledged with name cards near the display cases. The Historical Society was awarded a $1,000 state grant to develop the exhibit.
Museum hours are 1 – 4 pm on Tuesday and Thursday (through May 31), Monday through Friday (June 1 to August 1), and Tuesday and Thursday (September 1 to October 31).
General admission is $4.00 and $2.00 for members, seniors and children 6 to 12. Free group tours are available. Memberships are $10 for individuals, $25 for family, and $100 for lifetime.
Download a membership form and make this museum part of your history.