Smethport Web — by Nathan Muller
A sunny day with 70-degree temperatures provided ideal conditions for Saturday's annual Wheel Around the Hub Bicycle Race in Smethport, Pennsylvania.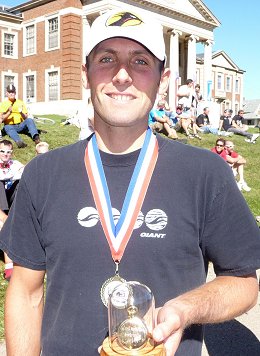 For the second consecutive year, the 53-mile race ended with record-shattering performances in both the Men and Women divisions. The winners of the gleaming Gold Watches were Jay Joslyn and Janel Bedard. Both also received a 1st Place medallion and cash prize.
Jay Joslyn, age 35, from Buffalo, New York, broke the men's record with a time of 2:06:18.2. He slashed 2 minutes and 19.1 seconds from last year's record-setting performance turned in by Cheyne Hoag of Danville, New York. Cheyne finished in second place this year with a time of 2:06:22.7, which actually beat his 2008 record of 2:07:09.0.
Riding a Giant bike and sporting number 260 over blue and green colors, Jay's primary sponsor was Shickluna, a bicycle shop in Buffalo. The shop traces its origin to the 1890s, which was also the start of the Wheel Around the Hub event in Smethport. "The coincidence here rises to the cosmic level," noted Ross Porter, who co-chairs the annual race hosted by the Smethport Lions Club. "With Jay's win, our event has finally come full cycle."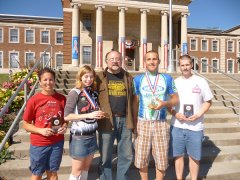 Janel Bedard, age 26, from Morgantown, West Virginia broke the women's 53-mile record with a time of 2:07:28.0. Janel participated in the race two years ago and used that experience to pull off a stunning record-setting performance this year.
Jill Behm of Erie, Pennsylvania took second place in the women's 53-mile competition. She set the course record last year with a time of 2:08:37.3. This year she was a bit off stride, recording a time of 2:21:01.7.
In the 15-mile race, Steve Aharra took 1st Place in the Men's Division with a time of 41:22.8, while Paula Larsen took 1st Place in the Women's Division with a time of 46:30.0.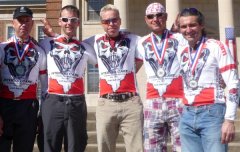 Among the 90-plus participants in this year's race was the five-man Z Team from Toronto, several of whom turned in noteworthy performances. Robert D'Amico placed 1st in the 40+ age category and 4th overall. Eduardo Maset placed 2nd in the 40+ age category and 5th overall. Marc Polsinelli placed 1st in the 50+ age category. Other members of the team were Greg Cushing and Andrew MacDonald. The team chose to participate in Smethport, while other members of their full 12-man Z Team (formerly known as the Invita Sport team) participated in another race held the same weekend in Toronto.
The race was marred by one injury. A cyclist failed to negotiate a 90-degree turn onto Willow Street. Several cyclists went down, but quickly resumed the race. The injured cyclist fractured a collar bone and had to be evacuated from the scene via an ambulance provided by Priority Care.
During the final lap of the Wheel Around the Hub, Ross Porter was interviewed by Jeff Andrulonis, whose radio station — The Mountain on WXMT (FM) 106.3 — provided periodic updates on the race to the listening audience.

Complete results for both Men's and Women's Division in the 15-mile and 53-mile race are available here, along with results by age category.

Over 60 volunteers served as corner marshals throughout the race course, while the Smethport Fire Police and Smethport Borough Police managed traffic throughout the town.


County Sheriff Deputy Steve Smith served as the Pace Car driver through all seven laps, clearing the way for cyclists as they made their way through traffic. Race Committeeman Jack Pierotti of Chef Specialties accompanied Deputy Smith, providing a second set of eyes to assist keeping the pace car in proper position as well as to spot potential traffic problems along the way.
Smethport Fire Chief Steve Field drove the pace vehicle for the 15-mile two-circuit race with Jamie Wallace Jividen serving as Pace Race Eyes for Chief Field.
Other key race personnel included race wheel truck team Bruce and Shane Miller and line judges Jay Acker, Dennis Maynard, and Max Simms. The race announcer was Paul Costa. WXMT broadcasted race updates, thanks to owners Jeff and Christy Andrulonis.
Organized by the Smethport Lions Club, the primary sponsors of the Wheel Around the Hub race this year were Hamlin Bank and Trust Company, Northwest Savings Bank, and Olean-based Worth W. Smith Hardware. Proceeds from the event go to recycling eyeglasses for distribution to low-income individuals in need.
Courtyard Restaurant and The Hub, occupying a strategic location on Main Street for the event, donated the use of their facilities for parking.
Prizes for the 15-mile race, which ran in conjunction with the 53-mile race, were donated by Just Riding Along (Bradford, PA), Chef Specialties (Smethport, PA), Ellicottville Bikes (Ellicottville, NY), and Costa's Supermarket (Smethport, PA).
Smethport businesses sponsored the age categories for the event:
Bill Lake Real Estate
Lindgren's Variet Store
McKean County E-Sales
New Horizon
Pat Hughes Insurance
Precision Collision
Pump House Fuels
Rocking Horse Realty
Rt. 6 Diner
The Country Porch
Lap Sponsors for the race, two from Bradford, the rest from Smethport, were:
ARG Refinery (Bradford)
C.L. McKeirnan Inc.
Costa's Supermarket
D.R. Hamlin House B&B
Duffy, Inc.
Edward Jones
Kurt Laemmer, Jr. DMD (Bradford)
Kwik Fill
Mansion District Inn B&B
Myra's Restaurant
Olson Tenglund
Patch Toys
Rainy Day Farms
Sena Kean Manor
Smethport Collision
Smethport Drive-In
Electronic tracking devices and computerized timing services for the race were provided by The Runner's High from Grove City, Pennsylvania.