Smethport Web — by Lisa Chapman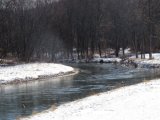 A community of like-minded citizens got together five years ago and formed the Potato Creek Trail Association. The vision included "creating and maintaining a network of multipurpose trails for the purpose of exploration, interpretation, and recreation within our topographically rich historic and natural environment.
In my youth, it seemed most of our wide open spaces were in the public domain. We walked, hunted, fished, and explored in many places that are now posted, protected, or otherwise not available. The people of Smethport still like to enjoy the outdoors and somewhere along the line a few individuals got to organizing.
Never underestimate the power of a few individuals to dream, plan, and execute an idea. Fast forward five years and the community organization continues to have vision for the future as well as pride in the accomplishments of the past five years.
A trail system exists to serve the hiker, snowmobiler, equestrian, cross-country skier, casual walker, or bird watcher. Water access points for the canoe paddler or kayaker now provide a place to get on Potato Creek.
The Shawmut Trail will soon be handicapped accessible and has been improved with 33 bluebird homes to update the older bluebird trail. The Pennsy Trail has a new bridge which will handle the horses and riders that like its long flat course. The Wolfinger Trail has been signed and maintained to offer access to the stunning views of the town.
On February 9th from 1 to 4 pm an educational program is being offered on salvage timber harvesting free of charge. (Click here for details).
These trails will link up to Allegheny National Forest trails. The hope is, the links will proliferate and connect to more places. Already community trails in Bradford, (Tuna Valley) and Westline, (Kinzua Valley) are being enjoyed by the people in their communities. What we have always found valuable here — access to the outdoors and open spaces for our interests and enjoyment — will be preserved.
If you would like to be part of this endeavor, contact us at PTCA — potatocreektrail@smethportpa.org. The investment in time and energy is small… the payoff is HUGE!