Smethport Web — by Annie Wolfe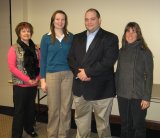 January is National Mentoring Month. In recognition of this, the McKean County District Attorney's office facilitated a volunteer training session for Big Brothers Big Sisters of McKean County on January 16th at the University of Pittsburgh at Bradford.
Bigs and Big Brothers Big Sisters Task Force members learned about the challenges that children face in society today, how to help these children make good choices, and increased their awareness of today's drug culture and its effects on the community.
District Attorney Raymond Learn and his staff were presented with Certificates of Appreciation by Big Brothers Big Sisters staff, task force members, and Bigs.
Contact The Guidance Center if you would like to learn more about volunteering with Big Brothers Big Sisters, or call toll free: (877) 776-1636.