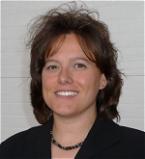 A community meeting was held today at the firehouse to discuss plans for Hamlin Lake Park. Leading the discussion was Borough Councilmember Patricia Witchen and Carrie Stewart, a civil designer with Hughes Engineering in Clearfield (above).
The Borough hired the firm, funded with a matching grant from the Department of Conservation and Natural Resources (DCNR), to develop a master site plan for the park with input from Smethport residents. The plan will qualify Smethport for funds and grants to enhance the park with additional facilities. The types of facilities and their cost will be determined jointly by the Borough Council and the community.
DCNR will evaluate the plan and, if it meets the agency's funding criteria, will issue Smethport a matching grant. Mayor Ross Porter noted that Smethport's match does not have to be in the form of cash, but can be "in-kind" contributions of time and materials.
Even without the grant, DCNR will give $20,000 to Smethport for parks and recreation, noted Councilmember Patricia Witchen. That money is separate from the $9,000 match from DCNR to fund development of the master site plan.
Smethport residents have been submitting their ideas for Hamlin Lake Park through the online questionnaire and written responses on mail-back forms, and will continue to have that opportunity until October 1.
According to Councilmember Witchen, the projects mentioned most frequently by residents to date are:
Basketball court
Rest rooms
Walking trail
Ballfield lighting
Horseshoe pit
Barbeque grills
More parking
Stage | amphitheater
Carrie Stewart said that DCNR does not veto specific projects; it just looks at whether a community can meet the funding criteria for the master site plan. She said projects must be realistic, affordable and maintainable. Something like a carousel, for example, may not be appropriate due to maintenance and liability issues, she said.
Another public meeting will be held in two months. By then the survey results will be finalized and a consensus reached on what elements to include in the master site plan for match funding. Meanwhile, if you have not yet submitted your own ideas through the online questionnaire, you are urged to do so before the October 1 deadline.