Smethport Web — by Amy Pierotti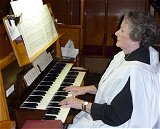 Sitting in St. Luke's Episcopal Church on Sunday morning, listening to Diana Anderson play the pipe organ, is like being at the gates of heaven.
Generations of Smethport residents have enjoyed the music of the Schlecker pipe organ, but played by the talented Diana, the church comes alive with her mastery of the instrument. When she plays, you can feel the drama of life, whether the music is sweet and light, dark and powerful, or soft and sad.
Born in Gifford and raised in the Smethport area, Diana began taking lessons on the piano at the age of six. She began her training at the pipe organ in 1972, at the request of the Rev. Calvin Miller.
"It was an answer to a prayer," said Diana. "My kids were in school and I had enough things for my hands to do, but not enough for my mind."
"Playing the organ is very difficult," she went on to say, "but it is a glorious feeling to be able to play it." Things fell into place when Michelle Dininny moved into town. Her husband accepted a position with Children's Services at the Courthouse in Smethport. Michelle gave vocal lessons at the high school. She majored in the organ at Duquesne University and agreed to give Diana lessons.
Pipe organs are all unique, built specifically for the church it is going to be in. There are different stops in the organ made to sound like the various instruments in the arrangements. There is a stop for the flute, strings, and oboe, to name a few.
Diana plays the pipe organ at St. Luke's Episcopal Church for their Sunday morning services at 11 am. All are welcome.