The first public meeting of the Potato Creek Trail Association drew 40 attendees to the Court of Angels restaurant Wednesday evening. The meeting, hosted by Ross Porter, featured several speakers who provided an update on trail projects in the area and their potential impact on Smethport.
Sally Newton, author of a book on Pennylvania trails, noted that many area residents have already been enjoying local trails. "It's just a matter of publicizing them so more people can enjoy them." She said the local trail system will eventually link up with a 4,600-mile network of scenic trails that span from the Allegheny National Forest to North Dakota.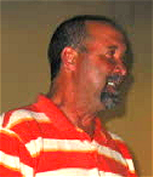 According to Kurt Weaver (left), a distinguishing feature of the local system is water trails. "Pennsylvania has 1,500 miles of water trails, one of the highest in the nation." He said the Potato Creek Trail system – with its 65 miles of navigable water and 17 landings – could be the starting point of the entire Allegheny River Water Trail.
Another feature of the local system is equestrian trails. Nancy Dart of Rainy Day Farm said the trails will be tied into the fair grounds where trailers can be parked and horses temporarily stabled for a fee.
Tim Pierson of the McKean County Extension Office noted that the development of the trail system will greatly benefit Smethport. "People are going to want to come here to enjoy these resources."
The meeting also featured a presentation by Les Jordan, a local professional photographer who shared his experiences exploring the various trails and documenting their scenic beauty and wildlife. He said development of the trail system will attract more tourists to Smethport, which will benefit the local economy and stimulate growth.
Officers of the newly formed PCTA will be nominated at a later date.