Hancock Forest Management's donation of a sugar maple tree initiated Smethport Borough's Shade Tree Jump Start program Tuesday, April 22nd. The tree was planted at the company office located on East Main Street, Smethport in honor of Arbor Day.
The Jump Start program offers individuals the opportunity to enhance the beauty of the Borough by planting a tree in the tree lawn in front of their property. The individual pays the cost of the tree and the Shade Tree Commission assists with site and species selection.
The Shade Tree Commission is in the process of a massive community reforestation project within the Borough. This effort is greatly enhanced with help from generous individuals such as Hancock Forest Management who have, over the previous three years, contributed trees to the Borough in honor of Arbor Day.
Other public shade tree programs include the Memorial Tree and the Adopt-A-Tree planting programs. Through the Memorial Tree program individuals can pay for a tree to planted in honor of a loved one or for a lesser fee adopt an established tree within the Borough. Parties interested in participating in any of these programs can contact Jovanna Porter at 887-5107.
As part of a continuing community reforestation public education effort Penn State Cooperative Extension and Smethport Borough Shade Tree Commission will be hosting a three-hour Arbor Day workshop on Sunday, April 27, from 1:00-4:00. The workshop will cover the planting and maintaining of street trees and will include a hands-on planting of two trees donated through the Memorial Tree program. The workshop will also discus programs and projects of the Shade Tree Commission. Register by calling the Extension office at 887-5613 by Thursday, April 24.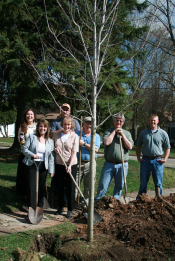 Members of Hancock Forest Management and the Smethport Borough Shade Tree Commission plant a "Jump Start" sugar maple tree at the company office.
Pictured from left are (front row) Lori Dunkle, Linda Lake, Tim Pierson, John Levavasseur, Chad Casselman, (back row) Jovanna Porter, Jeff Tanner