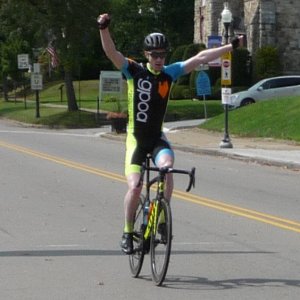 Smethport Web — by Nathan Muller
A humid, misty Saturday morning in the borough grudgingly gave way to bright sunshine by noon to usher in the start of the annual Wheel Around the Hub cycling races in Smethport. This year's event drew 101 participants from Pennsylvania, New York and Canada.
Dry pavement, a slight breeze, and a temperature that climbed to 78 degrees combined to produce ideal conditions for a blistering pace in the 53-mile event.
John Heffner from Pittsburgh, Pennsylvania took first place, crossing the finish line in a record time of 02:05:03.5. His teammate Jake Lifson, also from Pittsburgh, placed second with a time of 02:05:19.6, which also beat the previous record. Both represented the elite cycling team, GPOA, which features riders from the Pittsburgh and Philadelphia areas.
Third place finisher, Ed Maset from Canada, posted a time of 02:05:19.9, and even that beat the previous record.
All three cyclists smashed the course record that has stood for four years, set in 2013 by Jeremy Wickham of Corning, New York, who posted a time of 2:05:41.57.
This is the fifth year Heffner has participated in the Smethport wheel race. Last year he finished in second place with a time of 2:11:31.17 to GPOA teammate Jacob Yundt who finished first with a time of 2:10:59.92.
Jake Lifson, too, is no stranger to Smethport. Last year he came in third place with a time of 2:13:01.44.
In the women's 53-mile event, 15-year-old Elizabeth Archbold from Pickering, Ontario, won first place with a time of 02:06:06.1. Patricia Buerkle came in second with a time of 02:21:23.9. Third place finisher Lisa Weiss from Meadville, Pennsylvania took third place with a time of 02:21:28.9.
There was only one entry for the single-lap youth race, 14-year-old Mikah Patterson from East Aurora, NY, who finished with a time of 00:29:03.5.
Get the official results for all the races…
Timing for the Wheel Around the Hub cycling races was provided by 2L Race Services based out of West Chester, Pennsylvania. The firm uses cutting edge technology to ensure the accuracy and timeliness of race results.
This year each cyclist was given a disposable chip to wear that sends RFID signals to an antenna at the finish line. The antenna was linked to computers that collect lap results that are instantly posted on a website. In addition, each cyclist was able to get a printout of their lap results simply by tapping a few keys on a laptop computer at the service table.
In case things went horribly wrong at the finish line, a high-definition video camera captured the results, which included a clock overlay.
As each cyclist crossed the finish line, a computer displayed their name for the event announcer to use over the announcement system.
Following the race, an appreciation ceremony was hosted at the Smethport firehall, where race participants enjoyed free BBQ and musical entertainment before receiving awards and prizes. An estimated $4,000 was raised from the race, which will be used to support the Smethport Fire Department.