Smethport Web — by Nathan Muller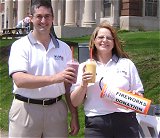 Smethport residents Jeff and Christie Andrulonis used the power of radio Tuesday to collect donations for fireworks that will be displayed during the National Wooly Willy Wonderdaze festival to be held here June 18 to June 21.
As chairman and co-chairman of the festival, Jeff and Christie did a "Live Action Broadcast" with their WLMI radio station from the court house grounds on Main Street. As drivers listened to fundraising appeals on the radio, they were encouraged to drop off a donation for the fireworks. Jeff and Christie met donors at the curb who stuffed cash into a large orange firecracker.
Within a two-hour period Jeff and Christie collected an astounding $2,349. One person pulled over to write out a check for $75, the largest single donation.
Zambelli Fireworks of New Castle, PA will be providing the fireworks show for the festival. Zambelli is one of the oldest and largest American fireworks companies and is known for its large dramatic shows, many of which have been televised.
Jeff is President/CEO of Colonial Radio Group, which owns several radio stations, including WLMI. He was very pleased with the response by Smethport residents to the festival. "The National Wooly Willy Wonderdaze is coming together swimmingly. Our event schedule is basically finalized and it seems like the entire community is working together to make this event a resounding success."
Christy Andrulonis, who is leading the fireworks fund drive, said, "We're so pleased to see Smethport supporting the National Wooly Willy Wonderdaze with donations. It looks like the entire Borough is primed for the four-day event."
Local stores will have specially marked canisters to take more donations for the fireworks.