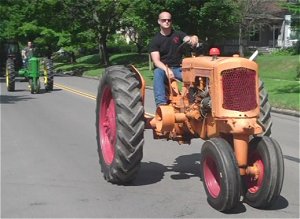 Smethport Web — by Nathan Muller
The 111th McKean County Fair kicked off with Ag Weekend on Saturday, August 13. The weekend's events commenced with the annual tractor parade down Main Street in Smethport, PA and then on to the fair grounds in East Smethport.
For many visitors, the weekend's Ag events rekindled interest in the area's agricultural heritage, which were part of county fairs in the early 19th century when local exhibitions to promote farming were popular.
In addition to the parade, the McKean County Fair featured a farm machinery show and tractor pull contest.
For those who missed it, here is a video of tractor parade from start to finish.