Smethport Web — by Les Jordan, Jr.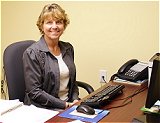 McClelland Financial Management has a new office in downtown Smethport. Irons Hollow resident, Sue McClelland, operates the business, which is located at 601 West Main Street, Suite 2, on the basement level of the Masonic Temple across from the McKean County Courthouse.
Sue has been in the financial services industry for 13 years and offers professional, honest and confidential services to her clients. Her tag line reads, "Let me help you realize your dreams."
Personal service is featured with each confidential, friendly meeting where Sue makes recommendations so the client can reach their individual goals.
Part of that meeting is to introduce a broad range of investment and insurance products that will meet the client's financial needs. While Sue offers securities through Multi Financial Securities Corporation (member FINRA, SIPC), her service is an independent agency that can offer many investment and insurance products available from "A-rated" companies.
Sue, who has a comfortable, friendly personality, is involved in community activities and has served as president of the Smethport Sports Booster Club from 2007-2009.
Her overall business philosophy is, "My client's goals and objectives are my first priority."
McClelland Financial Management will hold an open house on July 14th from noon to 8:00 p.m. with snacks and door prizes.
McClelland Financial Management is not affiliated with Multi Financial.