Smethport Web — by Nathan Muller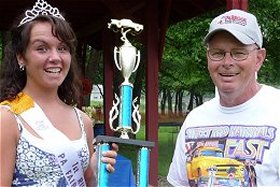 Despite uncertain weather, Saturday's Wooly Willy Wonderdaze auto show on Hamlin Lake drew some unusual cars from as far away as Florida and Toronto, Canada. The event was punctuated by drawings for high-end prizes, a karaoke contest, and a full-rev engine demonstration that was heard throughout the Borough.
Seeking refuge from the street chaos of Toronto's G-20 Summit, Brian Ahearn brought his fully tricked 2005 Chrysler 300C to the show. The vehicle's $100,000 worth of extras included four gull-wing doors and airbrushed interior from trunk to engine. As a hobby, Brian and his wife Marion travel around the country from show to show every summer.
Searching on the Internet for something new, they were intrigued when Wooly Willy Wonderdaze came up and decided to head for Smethport. On arriving, their top priority was the overnight parking situation. They did not want to put the pristine vehicle at risk for dents or scratches. One place that met their exacting requirements was Mansion District Inn Suites operated by Jovanna and Ross Porter, who dedicated the entire rear parking area to the vehicle.
Frank Armon brought in a 1970 Opel GT modified to a parachute-packing dragster capable of doing 150 mph in the quarter mile. During the show he treated the crowd to a demonstration of the vehicle's awesome power with a thunderous full-rev of the highly tuned 355 Chevy engine.
Smethport resident Brian Gustafson brought three antique Ford vehicles to the show – two cars and a truck – which had been in storage for three years. After he and friends spent a good part of the day painstakingly resuscitating the engines back to life, the cars finally made it to the show and went on to the parade.
Other notable cars included a 173 Plymouth 'cuda brought in by Bill Walters and a 1970 Dodge Super Bee brought in Denese Walters − both vehicles looking "newer than new".
Bud Carlson of the Smethport Fire Police exhibited two vehicles: a 1995 Dodge Ram 1500 and a 1964 Chevy Nova. Bud is also an avid motorcycle enthusiast and participated in last year's national rally in Sturgis, South Dakota which draws thousands of people annually from all over the country.
The smallest vehicle, and among the most unusual at the show, was a four cylinder 1959 Ford Anglia, dubbed an "English Ford", exhibited by Andy and Tina Stuck of Smethport.
The "Best of Show" trophy, sponsored by Ascent Solutions, went to James Pisner who brought in an impressive two-tone '50s Ford pickup truck dressed in orange and white.
The show ended with a parade down Main Street featuring Smethport's legendary Wooly Willy inventor and honorary parade marshal Jim Herzog, the school marching band, and the Smethport Fire Department's antique ladder truck.
Many participants expressed appreciation for the show's scenic location, hospitality, quality of the prizes, and management of the event. Judging from their smiles during the parade down Main Street – not usually done at other car shows – the day ended as a very enjoyable experience for all.
The following people and organizations funded the trophies or furnished prizes…
Trophy Sponsors
Ascent Solutions
Bill Lake Real Estate
Bowman Health Center | Smethport Wellness Center
Chef Specialties Company
BoB and The Mountain | Colonial Radio Group
Costa's Ace Hardware
Costa's Supermarket
Dexter's Service Center (Bradford)
Edward Jones
Free and Accepted Masons of McKean, Lodge No. 388
H & S Pet Animal Hospital
Hull's
J&B Furniture (Port Allegany)
Kwik Fill
Lakeview Senior Care and Living Center
Mansion District Inn Suites
Marvel Specialty Company
McKeirnan Towing
Myra's
Northwest Savings Bank
Olson & Tenglund | NAPA Auto Parts
Sena Kean Manor
Smethport Auto Wash
Smethport County Club
The Cottage House
The Country Porch
Thomas E. Ball, EA
V.F.W. Post 2497
Prize Donations
Buchanan Brothers Pharmacy
Lightwaves Laser Engraving
Total Engraving
Zippo Manufacturing Company (Bradford)