Smethport Web — by Nathan Muller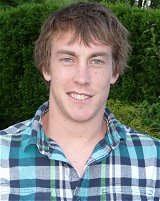 Matthew de Smeth, 22, a descendant of the Dutch financial family after which Smethport is named, is visiting the Borough this week.
A student studying civil engineering at North Carolina State University in Raleigh, Matthew lives in Australia, where his father moved in the 1950s after working at a rubber plantation in "Belgian" Congo.
While on a trip to Toronto, Matthew decided to rent a car in Buffalo to drive to Smethport. While here, he visited the McKean County Historical Society and Hamlin Bank, among other places, and met with Mayor Ross Porter and Jovanna Porter at their Mansion District Inn B&B. He brought copies of the family crest, family tree, and a photo of today's de Smeths.
Matthew said nothing remains of the financial empire built by Raymond and Theodore de Smeth in the early 1800s. The family sold their holdings and pursued positions in the Dutch Royal Court. Several family members held the title of baron. There were two castles in the de Smeth family, but both were destroyed during World War II. The ruins of one is used by a youth organization for special events and parties.
Matthew said he would send a narrated slide presentation about the de Smeth family, so stay tuned for a follow up story right here on Smethport, PA's Online News Magazine.