Smethport Web — by Nathan Muller
The 24th annual Hamlin Memorial Library Dinner and Auction was held Saturday at the Fire House, attracting a sell-out crowd of 150 people, who enjoyed an evening of bidding and buying, while mingling and drinking.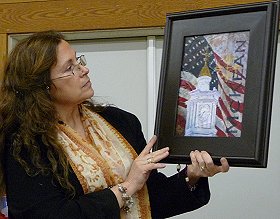 After a buffet dinner prepared by Rose Campbell and Phyllis Russell, guests had an opportunity to finalize their bids on 156 items donated for the silent auction. Notable among them was a maple settee, wooden doll house, stone bird bath, 18 holes of golf for two plus cart at the Smethport Country Club, a whole beef tenderloin cut to order, a two-night stay at the Mansion District Inn, a laser engraved wall coat rack, and enough jewelry to start a small business.
There were 43 items donated for the bucket raffle, including a fondue set, a case of motor oil, puzzles and games from Smethport Specialty, Girl Scout cookies, and a "Barn & Bear" laser engraved wall clock.
The highlight of the evening was the live auction conducted by Ross Porter and a team of guest auctioneers, who put up 10 items for bid.
A plane ride for two above the Kinzua Valley donated by Jim Line went for $200.
A football signed by Pittsburgh Steeler James Harrison (#92) from Anne Kurzawski was sold for $150.
A chainsaw carved bear donated by Dave and Julie Taylor was purchased for $400.
Two dozen cookies a month baked by Lori Rounsville was snapped up for $178.
A four-foot cherry sofa table with curly maple and walnut inlay hand-crafted by Karl Fitzsimmons topped the night's bidding at $675.
A jellyroll patterned quilt measuring 63×73 inches and donated by Elaine Eley went for $275.
A ThinkPad laptop computer donated by El Paso Corp. was sold for $450.
An oil painting by local artist Julie Mader, "McKean County Seat", was purchased for $400.
A refinished antique Governor Winthrop Desk went for $450.
The library also received cash donations from Katie and Dave Rumsey, Keith and Barbara Delacour, Bob and Shirley Digel, Mary Beth and Tim Holohan, Kisko Rental Properties, Bill Miller, Patch Products, Louise Pavlock, Brian and Kolleen Press, Smethport Tire and Gas, and Sons of the American Legion.
All proceeds from the event will go towards the general operating expenses of the library, which serves the townships of Keating, Norwich and Sergeant as well as Smethport Borough with a combined population of over 5,500.