Smethport Web — by Nathan Muller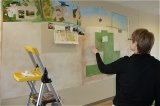 Local artist Julie Mader is preparing a "multi-media" mural at Hamlin Memorial Library. The feature that makes the mural unique is the inclusion of digital photo frames that will display images related to the themes Julie is painting. The digital files used in the frames can be easily updated by the library to provide a perpetual learning experience for library patrons.
Julie is a well respected artist in the community and has done commission work for a variety of individuals as well as organizations. The mural she is painting for the library depicts themes from Smethport, such as the Bucktails, as well as the Pennsylvania Wilds region, and the Route 6 Heritage Corridor. She expects to complete the mural in a few weeks.
The work is being financed by a $1,300 grant from Pennsylvania Partners in the Arts, a unit of Pennsylvania Council on the Arts. The successful funding proposal was jointly written in the Spring of 2008 by library director Lori Rounsville and Julie, with Lori acting as the project manager.
According to Lori Rounsville, once outside construction is completed, the library will host an Open House which will include an official "unveiling" of the mural. The date and time of the event will be announced at a later time.