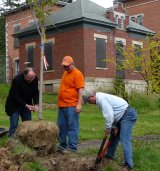 The Borough celebrated Arbor Day on May 13th by planting a 14-foot Sugar Maple tree in front of the McKean County Historical Society building on King Street.
The tree was the 103rd tree planted as part of a multi-phase reforestation project that began last year. As part of that effort, 11 more trees will be planted around the Borough in the next few weeks, bringing the total to 114.
Jovanna Porter, who chairs the Shade Tree Commission, along with members Linda Lake and forester Jeff Tanner (center) — with guidance from Dr. Tim Pierson from the PSU Cooperative Extension (right) — organized the tree planting for the Historical Society. Gay DeGollier from the Redevelopment Authority and Lou Vandermark representing the Historical Society attended the special planting. Borough employees dug the hole.
Mayor Ross Porter (left) read the Borough's Arbor Day proclamation, noting that the economy of Smethport and the surrounding Pennsylvania Wilds region has depended on the wise use and stewardship of this natural resource. He urged all residents to plant trees, support efforts to protect them, and wisely use our woodlands.
The first Arbor Day was held in Nebraska on April 10, 1872. Julius Sterling Morton, a politician and journalist, came up with the idea for a day dedicated to tree planting in the Nebraska Territory. Years earlier, the plains had been cleared for fuel, building materials, and farming. Nebraskans planted over 1 million trees that first Arbor Day.
Although states celebrate Arbor Day on different dates, according to the start of planting season, President Richard Nixon proclaimed the last Friday in April as National Arbor Day.