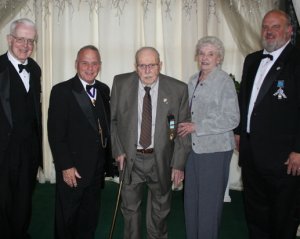 Smethport Web — by McKean Lodge #388
The Free and Accepted Masons in Smethport, McKean Lodge #388, has recognized Jay E. Chapman for 70 years of membership.
Ronald A. Aungst Sr., Right Worshipful Past Grand Master of Pennsylvania, presented Chapman with a gold lapel membership pin and a certificate at the lodge's 150th anniversary banquet May 12 at The Court of Angels in Smethport.
Chapman, who was born in Bradford and now resides in Crosby, said his father, Jay Chapman Sr., a 60-year member of the Masonic Lodge in Bolivar, N.Y., encouraged him to join the fraternal organization. After completing the requirements, Chapman received his Master Mason Degree on June 11, 1947.
On his way to achieving this membership milestone, Chapman served McKean Lodge as secretary for eight years. Also, Chapman is a 32nd Degree Mason, which reflects increased knowledge of the principles, tenants and workings of the fraternal order.
He is also a member of the Zem Zem Shriners in Erie and the Coudersport Consistory of 32nd Degree Masons.
After 35 years of service, Chapman retired in 1964 from Dresser Manufacturing in Bradford, where he was a member of the industrial engineering team. He also has been a sales representative for an insurance company.
He is a life member of the American Legion, Veterans of Foreign Wars and Norwich Township Sportsmen's Club.