Smethport Web – by Les Jordan Jr.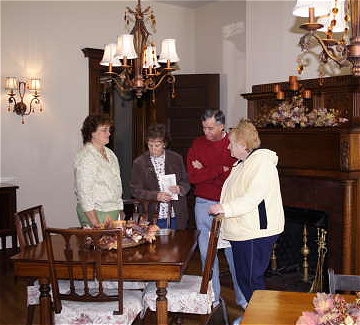 Last weekend's Tour of Homes in the Smethport area, sponsored by the Smethport Garden Club, was attended by nearly 200 people, breaking the record for this event. People came from several surrounding towns in the Smethport area and from nearby New York State and other states across America.
It was a perfect autumn day for the tour with warm sunshine and vivid autumn colors on the trees lining Smethport's residential area. A steady stream of people was visible throughout the borough all afternoon as they walked along those streets on the tour.
There were visits to several homes listed in Smethport's Historic Mansion District Tour and a wide variety of other styles of homes in and around the borough.
Home owners and volunteers from the Garden Club hosted the crowds in each home. The elegant furnishings in the homes of the Mansion District brought many emphatic comments from visitors and provoked many historical discussions with numerous questions and observations.
Refreshments and an opportunity for camaraderie were furnished by the East Smethport Christian Church where mulled cider and treats were provided.