Smethport Web — by Nathan Muller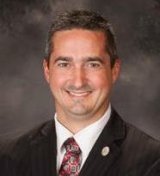 Smethport's Jeff Andrulonis, President & CEO of Colonial Media + Entertainment, has announced that another radio station will be coming to Bradford.
The company has filed an application with the Federal Communications Commission (FCC) to build a 900 watt booster station in Bradford for McKean County's Country Station — Bob 103.9 (WBYB). The booster station will also broadcast on 103.9 FM, which will be licensed to Bradford. The booster will broadcast the Bob 103.9 signal from the top of Colonial Media's new building at 53 Main Street.
WBYB will provide a crystal clear signal into Bradford and Foster Brook, while the main signal on Prospect Hill between Smethport and Port Allegany will continue to cover the rest of McKean County. Expected approval date from the FCC is approximately 60-90 days.
Earlier this summer, Colonial launched the first new radio station in Bradford in over a decade as the 99.3FM signal began broadcasting "Hot FM," a Top 40 station playing Today's Hit Music by stars like Maroon 5, Taylor Swift, and Meghan Trainor. "Hot FM" is also heard in Smethport, Port Allegany, and Eldred on 95.3 FM.