Smethport Web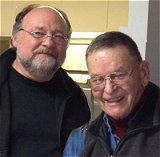 Long time area resident Chuck McKiernan received an engraved gold watch from Smethport Mayor Ross Porter last week during a meeting of the Smethport Lions. McKiernan was honored for his years of service in organizing and assisting in Smethport's annual Wheel Around the Hub Cycling race.
The cycling race was originally started during the early 1890s and died off with the advent of the automobile. The race was started up again during 2005 by the Smethport Lions Club and has been reorganized by the Smethport Fire Department.
McKiernan has remained an active Wheel Race Committeeman over the years and has participated in dozens of other community activities.