Jovanna Porter organized a Smethport Bucktail Unit Civil War Day for her students today. Students were separated into groups and circulated between various workshops. The entire class gathered to witness multiple firings of a replica Civil War Napolean cannon provided by Smethport resident Brian Gustafson.

Prior to the Bucktail encampment, Jovanna Porter brought members of her Sixth Grade class to local radio station WQRM, where Rose Bishop and Jovanna interviewed them about the Civil War books they were reading and what they learned from them.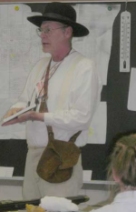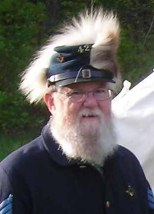 During the past few weeks, as a warm-up for the day, Mrs. Porter's (above left) 6th Grade English students read Bill Robertson's (above center) young adult book Hayfoot, Strawfoot. This is the first book of his 7 book young adult series on the Bucktail Unit in the US Civil War. The author was a big hit when he addressed the group and answered their questions.
Students learned about the Civil War in a local living history experience that included firearms, cannon firing, camp life, and Smethport "Company I" of the 13th Pennsylvania Reserves. Clarence Walker, Bucktail Unit Commander (above right), fired the cannon.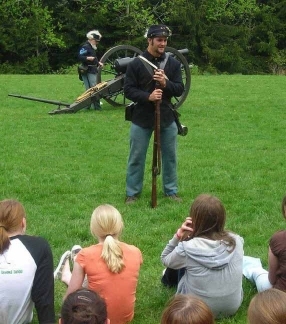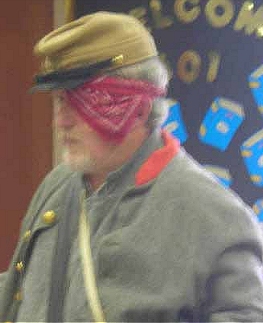 Smethport High School student and Bucktail Company I member Kyle Noble (above left) spoke to the students about his experiences growing up as a Civil War reenactor, which he has done since he was an elementary student. New York resident John Stengel (above right) made a guest appearance as a wounded Confederate soldier.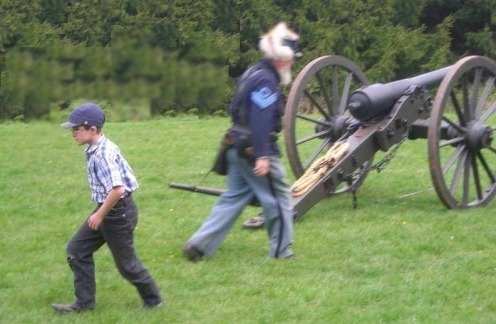 Smethport reenactor and Civil War artist Billy McDowell assisted with the events throughout the day.