Smethport Web — by Nathan Muller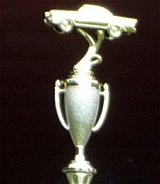 Saturday's combined bike-car show on the island of Hamlin Lake drew about 60 entrants as part of the Wooly Willy Wonderdaze festivities.
Bikers and car enthusiasts showed up to display their vehicles despite overcast skies and the constant threat of rain.
Among the 23 car trophies distributed at the event, Beth Cooper won the "Best of Show" for her 283-hp 1960 Chevy Corvette. The trophy was sponsored by Smethport Web Services.
The "People's Award" plaque went to Norm Smith for his 1933 Plymouth CP with a 350 Chevy engine. The plaque was sponsored by C. L. McKeirnan, Inc.
The bike-car show ended with a parade down Main Street, led by the Smethport High School marching band under the guidance of music director Matt Bailey.
Special thanks go to this year's trophy sponsors for making the event a success:
Big Bob Radio
Bill Lake Real Estate
C L McKeirnan, Inc. (2 trophies and People's Award)
Chef Specialties
Edward Jones Financial Advisors
H&S Pet Animal Hospital
Hamlin Bank & Trust Company
Kwik Fill
Lakeview Living and Rehabilitation
Mansion District Inn Suites
Northwest Savings Bank
Olson & Tenglund – NAPA Auto Parts (2 trophies)
St. Elizabeth of Hungary Roman Catholic Church
Smethport Auto Wash
Smethport Country Club
Smethport Gulf & Tire
Smethport Web Services (Best of Show trophy)
The Mountain Radio
V.F.W. Post 2497
Diana Covert of Lightwaves Laser Engraving did another great job in building and engraving the trophies and plaque.