Smethport Web — by Annie Wolfe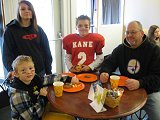 Big Brothers Big Sisters of McKean County hosted their Fall group activity in Smethport on October 29.
Bigs and Littles enjoyed an educational tour of the Old Jail Museum and were treated to a spooky tale about the jail's resident ghost, Ralph Crossmire. They also learned about some of the historical events in Smethport such as the Civil War Bucktail Regiment and General Thomas Kane.
After the museum tour, participants were treated to cookies, cider, apples, and popcorn at the Country Porch. The event continued at the Smethport Family Center for a pizza party and a pumpkin painting craft.
Several participants donated their pumpkins, which will be on display at the Country Porch until November 7.
The activity was sponsored by the McKean County Historical Society, Country Porch, and Costa's Supermarket.