Smethport Residents
Smethport Web - Melissa A. Riehle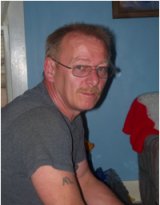 The Hamilton family and the American Red Cross are holding the first annual blood drive in memory of Alan Hamilton on Monday, December 16, from 12:00 pm to 6:00 pm at the Smethport Fire Hall at 109 South Nelson Street.
Alan was an avid blood donor, who donated over six gallons of blood during his lifetime. Alan's family is looking to increase community awareness about the need for blood and hopes to collect 112 units of blood at this drive.
Alan was initially admitted into the hospital on April 21, 2013 because he was having trouble breathing. It was at this visit that they diagnosed him with pneumonia. Alan was in and out of the hospital from April until June. On June 7, he was taken by ambulance to a larger hospital in Erie, Pa. He was there for 12 days and then transported to a facility in Pittsburgh on June 19.
It was on June 26 that Alan was diagnosed with Wegener's granulomatosis, a rare disorder in which blood vessels become inflamed, making it hard for blood to flow. During his sickness, he received multiple blood transfusions that helped him stay alive. Sadly, on August 2, 2013 Alan passed away.
The Red Cross is asking eligible blood donors of all blood types to donate blood during the winter months to strengthen the community's blood supply. Local blood donors are needed all year round to ensure the blood supply stays strong. Approximately every two seconds a patient in the United States needs blood. That's why your blood donation through the Red Cross is so important. Your blood donation can help save the life of a real person in our community.
Blood is an essential component for patient care in area hospitals, and the only source of blood is a healthy, volunteer blood donor. All presenting donors will receive free pizza and a t-shirt. Local businesses have donated several items to be raffled off and there will also be a grand prize raffle for a pair of roundtrip JetBlue airline tickets.
Walk-ins are always welcome, but donors are encouraged to schedule an appointment in advance by calling 1-800-RED CROSS or by visiting www.redcrossblood.org.
Share on Facebook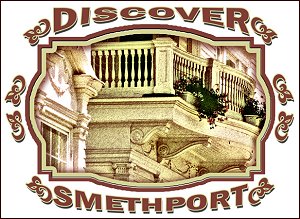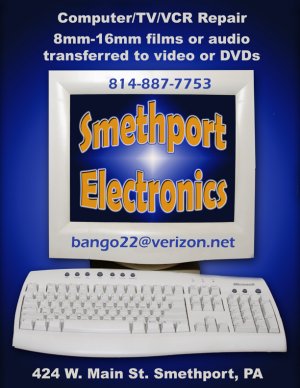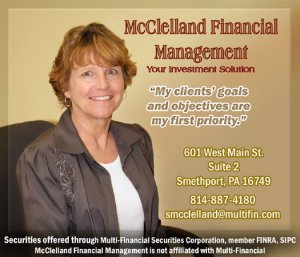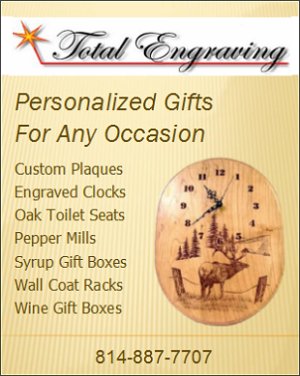 SUPPORT YOUR LOCAL LIBRARY
Please consider a tax deductible donation to the Hamlin Memorial Library. You can donate online - any amount is welcome. You'll get a receipt via email. The library is a recognized charitable organization under section 501(c)(3) of the Internal Revenue Code.
If you prefer, you can send a check by mail at any time using this form.

Become a fan of the library on Facebook and learn about upcoming events.
Newspaper Archives Available
An archive of local newspapers, from 1833 to 1978, is available for viewing online or through microfilm at the Hamlin Memorial Library. Every newspaper in the online database is fully searchable by keyword and date, making it easy to quickly explore historical content. You can also order a full page copy on heavy paper. smethport.newspaperarchive.com
More to do in Smethport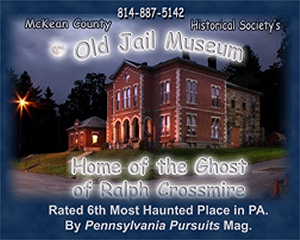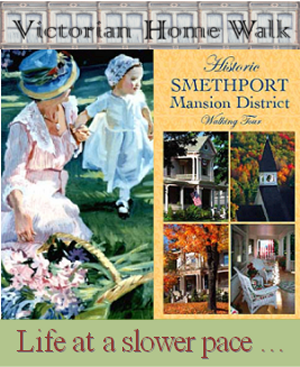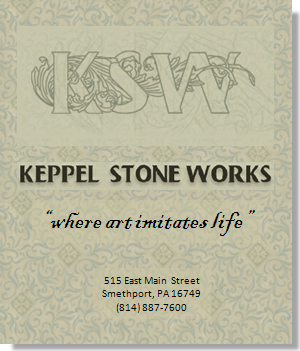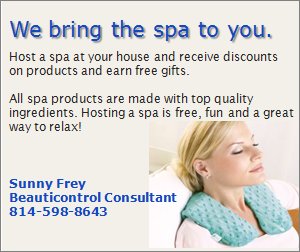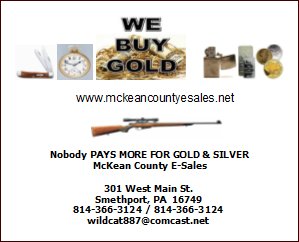 Special Events
Gala Dinner & Dance to celebrate 10th Anniversary of Smethport Sesquicentennial - Saturday, December 14th - 7 to 10 pm. Get all the details here.
Senior Center members to tour Smethport on Thursday, December 19 to judge the best decorated homes for the Christmas season. The Smethport Area Chamber of Commerce will award $50.00 for 1st place, $30.00 for 2nd, and $20.00 for 3rd.

Visit Smethport's YouTube Channel.
Note: Click images below for enlargements, slideshows, audio, and other information!
Smethport Web - by Claudia Caminite
If you are looking for a unique and original gift, the McKean County Historical Society announces a pre-holiday sale of a variety of items at the Old Jail Museum Gift Shop, 502 West King Street, Smethport, PA.
There are many historical books and locally written books, hand-made jewelry, woven rugs, knitted hats and scarves, and wooden crafted shelves. There are unique gift items galore.
Pat Rogge, a volunteer for many years, who was a civil servant employed by the Smithsonian, Washington, D.C., donated four signed, matted, and framed prints by Don Cannovaro, who is known for his drawings of our national monuments. Mrs. Rogge also donated a variety of prints she acquired at the Smithsonian Art Gallery. This wonderful collection is for sale.
An exciting new collection of paintings by local artist, Virginia Cherrington, is also available. Shoppers will also find matted, framed photos by Rocky Holland. Christopher Robbins's print "Made in the USA" is available.
This is the first sale at Old Jail Museum Gift Shop, behind the McKean County Court House, Smethport. The two day sale will be 11:00 AM until 6:00 PM, Wednesday, December 11 and Thursday, December 12. Light refreshment s will be served.
Share on Facebook
Smethport Web — News Desk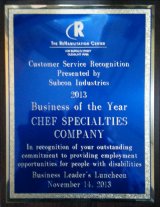 Chef Specialties Company, Inc. of Smethport, Pennsylvania was honored at a business leaders luncheon by The Rehabilitation Center of Olean, New York for their support of the Center's mission through the SubCon Industries division. During the luncheon, Chef Specialties Company received the 2013 "Business of the Year" Award.
The ceremony was held at the St. Bonaventure Country Club on Thursday, November 14, 2013. Jack and Mary Pierotti represented Chef Specialties Company.
SubCon Industries is a non-profit organization that provides employment-training opportunities for 200 adults with disabilities. The company is dedicated to developing their vocational skills, and good work habits, to help them achieve their individual goals. Chef Specialties Company has partnered with SubCon Industries for the last twenty-five years providing clients the opportunities to earn a living by filling and packing some of Chef's pepper mill and salt mill products.
Chef Specialties Company was founded in Detroit in 1940. The company was moved to Smethport from Kane in 1974 when the Pierotti family purchased the assembly operation. The company had been making metal parts for the pepper mills before that time.
The company is the largest supplier of pepper mills to the Foodservice Industry. Chef Specialties Company sells through large food supply distributors such as US Foods, Edward Don Company, Sysco Corporation, Gordon Foods, US Foods, Wasserstrom, SEFA, and many others. In turn, these distributors then sell to individual restaurants and restaurant chains.
Chef Specialties Company mills will be found in TGI Fridays, Longhorn Steakhouse, Outback Steakhouse, and many more. The Professional Wood mills are also used in the White House kitchens.
On the retail market side the company supplies many small gourmet shops, grocery chains, and online sites such as Target, The Chef's Catalog, The Wine Enthusiast Catalog, Woodcraft, and Amazon.com.
Share on Facebook
Smethport Web — by Nathan Muller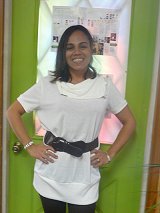 Jessica and Akete Kindle have opened Simply Healthy, a Herbalife nutrition club in Smethport that serves weight-management, energy-fitness and targeted nutrition products intended to support a healthy lifestyle for people of all ages.
Jessica offers a personalized approach in that she can understand members' specific needs and guides them in selecting the right products to achieve their goals. If weight loss is the goal, for example, a regimen of teas and shakes might be recommended, along with one regular meal per day.
One Smethport resident has shed 35 pounds in 30 days by following Jessica's advice, and now fits into long-forgotten coats and jackets. Apparently there is one side effect with this kind of weight loss… The people who experience it feel so good that they can't stop talking about it.
The club at 322 W. Main Street is open from 8 am to 1 pm and 4 pm to 7 pm on weekdays and Saturday. Contact Jessica at 814-331-1714 or jesskind12348@yahoo.com
Share on Facebook
Smethport Web — by Theresa Putnam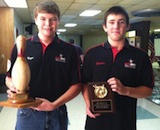 The DuBois Lanes hosted the second District 4 Youth Gold Pin Youth Bowling Tournament Sunday afternoon with Wayne Putnam of Cyclone (series of 640) claiming the title.
Twenty-two bowlers bowled a three-game qualifying round with the top five bowlers matching up in the step ladder finals.
Ryan Mitskavich of DuBois was the No. 1 seed with a 662 series. Mitskavich and No. 3 seeded Jacob Amster of Smethport, with a series of 631 also tied for the high game of the day with a 258.
The day's first match pitted DuBois' Thomas Grecco, No. 5, against No. 4 Brandon Orsich of Clearfield. Orsich outscored Grecco 235-210. Orsich moved onto the second match against Amster and won by a score of 222-156.
Orsich's run came to an end in match three as Wayne Putnam of Smethport put on a four-strike streak in the middle of the game to win by a score of 211-181. This set up the finals with Putnam building up a comfortable lead on Mitskavich early. Mitskavich fought back to force Putnam to make a good count in the final frame. Putnam left a split, but was able to pick up one pin to score the 185-183 first place win.
The Gold Pin Tournament was set up by Clearfield youth coach, Don Barr, with girls qualifying in their leagues by bowling a 550 series and boys a 600 series. Each district house was also afforded one non-qualifying position for this tournament. Barr is looking to expand on this tournament in the future, and possibly making this a scholarship earning tournament.
The next tournament will be held in the spring of 2014 at Clearfield Lanes. District 4 bowling centers include Bradford, Brookville, Clearfield, DuBois, Emporium, Kane, Philipsburg and St. Marys.
Share on Facebook
Smethport Web — by Nathan Muller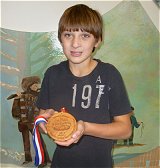 This year's Wheel Around the Hub Cycling Races, held on September 14th, featured a new Junior Mountain Bike Class for cyclists aged 12-13, 14-15, and 16-17, who participated in the one-lap 7.5-mile race.
Following the event, awards were presented during an outdoor barbeque celebration hosted by the Smethport Fire Department. Everything went smoothly, except that one 1st Place medallion for the 12-13 age class remained behind, unclaimed.
The medallion was finally united with its owner today at the Smethport Junior High School where Mayor Ross Porter and school principal Bob Miller officially presented it to Darion Gregory, son of Holly and Kirk Gregory of Smethport.
Initially worried about why he was summoned to the principal's office, Darion was surprised when told it was to receive an award. He said he expects to participate in next year's Wheel Around the Hub Cycling Races.
Share on Facebook
Smethport Web — by Annie Wolfe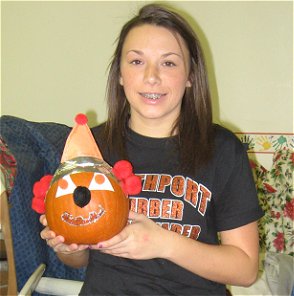 Make A Difference Day is the largest national day of community service. Earlier this month, millions of volunteers across the country united in a common mission to "be the change" they want to see in the world.
Over the past year and a half, Miss Megan Frontino has been volunteering her time with Big Brothers Big Sisters as part of her Senior Project. On Saturday, she completed her last event with us as part of Make A Difference Day. She helped our Bigs and Littles decorate pumpkins, which were then given to Kane Lutheran Home residents as a gift later in the day.
We've been lucky to have her with our organization and would like to thank her for all the help she's given us.
Share on Facebook
Smethport Web — by Nathan Muller
Friday evening Smethport celebrated Homecoming Day with a parade down Main Street. Retired biology teacher Bill Stephens, led the parade as Grand Marshal, followed by student Grand Marshal Escorts Abbey Woodard and Will Perez. They were followed by High School principal Robert Miller and Smethport Area School District superintendent Charles Leasure. Read more »
Share on Facebook