Borough News
Here is the original, uncut WPSU presentation of "Our Town: Smethport" as it was broadcast live on October 16th.
Share on Facebook
Around the Forest Region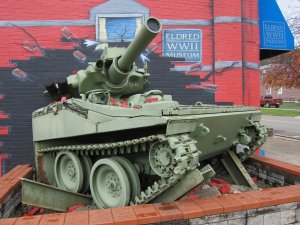 A special presentation will be held at the Eldred World War II Museum on Sunday, Nov. 9, 2015, at 2 pm. "My Father vs. the Japanese Navy" is the amazing story of a PT boat skipper during the battle of Surigao Straits in the Philippines on Oct. 25, 1944.
Earl McElfresh will share the story of this father and his command against overwhelming odds against heavy units of the Japanese Navy.
The Eldred WW II Museum, 201 W. Main Street, Eldred, PA, is open for touring from 1 to 4 on Sunday, 10 am to 4 pm Tuesday through Saturday. More information: 814-225-2220.
Share on Facebook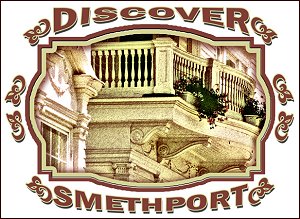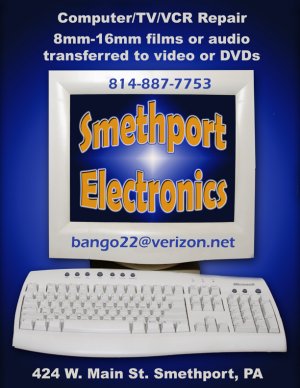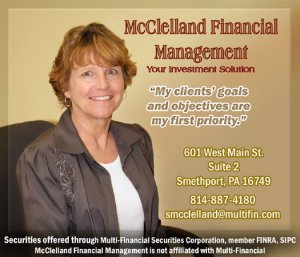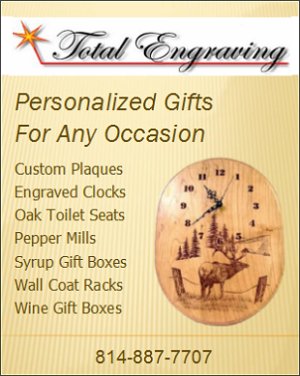 SUPPORT YOUR LOCAL LIBRARY
Please consider a tax deductible donation to the Hamlin Memorial Library. You can donate online - any amount is welcome. You'll get a receipt via email. The library is a recognized charitable organization under section 501(c)(3) of the Internal Revenue Code.
If you prefer, you can send a check by mail at any time using this form.

Become a fan of the library on Facebook and learn about upcoming events.
Newspaper Archives Available
An archive of local newspapers, from 1833 to 1978, is available for viewing online or through microfilm at the Hamlin Memorial Library. Every newspaper in the online database is fully searchable by keyword and date, making it easy to quickly explore historical content. You can also order a full page copy on heavy paper. smethport.newspaperarchive.com
More to do in Smethport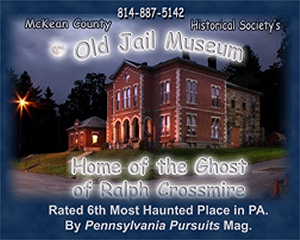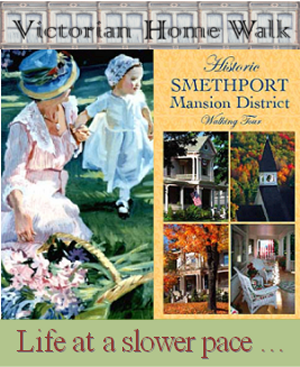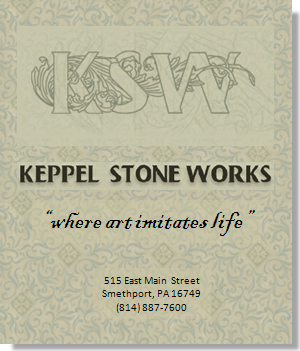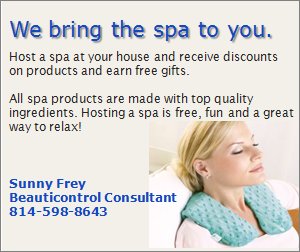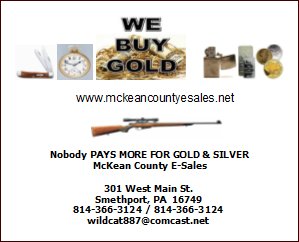 Specializing and Experienced in Estate & Downsizing Sales and After Sale Clean Up
Organization, Decluttering, Home Beautification & Curb Appeal of Your Home or Business
In need of these services? Contact Ric Toner
814-203-6492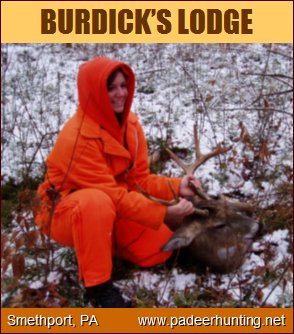 FYI...
McKean County Historical Society presents: "Gino Sings!" at the Court of Angels restaurant on November 2, 2014 at 3:00 pm. Get all the details here.
Saint Elizabeth's 11th Annual Community Dinner in honor of the Feast Day of Saint Elizabeth of Hungary will be held Sunday, November 9th, from 12:00 noon to 3:00 pm. The dinner will be held in the NEW Parish Hall. Enjoy turkey dinner with all the trimmings - free to all who come. Questions: 814-887-9254. Click for more information.

Visit Smethport's YouTube Channel.
Note: Click images below for enlargements, slideshows, audio, and other information!
Smethport Web — by Nathan Muller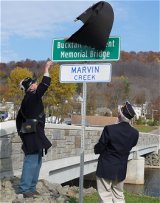 After more than a year of planning, Marvin Street Bridge in Smethport was officially named as "Bucktail Regiment Memorial Bridge" during a ribbon-cutting ceremony on Saturday.
Signs are now placed at both ends of the bridge to honor the area's Civil War volunteers recruited by Thomas Lieper Kane in 1861. The Bucktails served with "high distinction" in 18 major battles in a war that ultimately took over 750,000 lives.
The following remarks delivered by Ross Porter acknowledge the events that led to the construction of the bridge… Read more »
Share on Facebook
Smethport Web — by Nathan Muller
On Thursday, October 16 at 8 pm PBS live-streamed the broadcast premiere of "Our Town: Smethport."
This summer, volunteer storytellers from Smethport, Pennsylvania came together for the 79th production in the "Our Town" series. Their stories captured the rich history of this friendly community.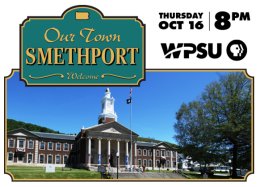 They shared stories about the McKean County Historical Society Old Jail Museum, Compton's Mom & Pop Shop, the Smethport Fire Department, the Mansion District, Hamlin Memorial Library, Smethport Country Club, McKean County Court House, Smethport Area High School, and so much more.
In addition to local residents, people from all over the country with ties to Smethport called in their pledges of support for "Our Town: Smethport." Donors of $75 or more will receive a DVD with bonus features and content not shown during the live broadcast.
During the pledge drive breaks, many familiar localites were seen manning the phones in the background, including Mayor Wayne Foltz, Julie Mader, Bart Barton, Tony Alfieri, Diana Covert, Claudia Caminite, and Judy Church.
A great evening of fun — just one more reason Smethport is a GREAT hometown!
Check out the Twitter feed for commentary during the broadcast. Our favorite comment: "SHUT THE HELL UP EVERYONE, ROSS PORTER IS ON."
See how Smethport has changed in 10 years… Here is the full broadcast of "Our Town: Smethport" done in 2005:
Share on Facebook
Smethport Web — by Barbara Bowman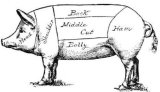 McPaint Time is socializing while being creative. At the Pig Roast, October 4, at McKean County Fairgrounds, participants will complete an acrylic painting in two hours or less. The painting is titled, "Barnum Swamp".
The session will begin at 1:00 pm. The fee of $20.00 includes all materials. Please call the McKean County Historical Society at 814-887-5142 to register.
While at the Fairgrounds, enjoy the Pig Roast, craft show, and demonstrations. You may even try Square Dancing. Gates open at 10:00 am. Pig Roast will be served starting at 11:30 am.
Share on Facebook
Smethport Web — by Nathan Muller
Smethport Area High School held its annual Homecoming Parade on Friday, September 26th down Main Street. The parade was led by Mayor Wayne Foltz, followed by Grand Marshal Bernie Reap and the High School marching band directed by Matt Bailey.
The Smethport Hubbers football team capped the Homecoming Day festivities with a dramatic come-from-behind win (33-32) over the Sheffield Wolverines in the last minute of the game.
During half-time, Quinn Burdick was chosen the 2014 Homecoming Queen. Keenan Kost had been previously announced as Homecoming King.
Share on Facebook
Smethport Web — by Nathan Muller
A ceremony was held in Smethport, Pennsylvania, for the official opening of the Shawmut Trail. The event, hosted by the Potato Creek Trail Association, was held at the Shawmut Trail Head northwest of Marvin Creek Bridge.
Porter, a founding member of the PCTA, and speaking for the organization, congratulated members of the PCTA, Smethort Borough Council and the McKean County Commissioners for their efforts in bringing the trail project to completion. Porter singled out Donald "Corky" Hull for providing exceptional leadership and contributing decades-long trail experience to the project planning table.
The trail is dedicated to the memory of Dr. Douglas Bowman, who used the trail for his annual two-mile "Walk with Doc" health and nature walks. Walkers crossed the Marvin Creek bridge, then followed the Shawmut railroad grade at the rear of the county property, to US Route 6 and on to Hamlin Lake Park and the Goose Chaser Trail, then returned back to the Shawmut Grade and the Poor Farm.
Hull and PCTA president Steven Brougham cut the ribbon to officially open the gravel-paved trail, which also includes a bridge.
Attendees at the event included Joe DeMott, representing the McKean County Commissioners, and Greg Rounsville, representing the Smethport Borough Council. Read more »
Share on Facebook
Smethport Web — by Nathan Muller
An overcast sky and the threat of rain didn't stop 70 cyclists from competing in this year's Wheel Around the Hub races in Smethport.
Thirty-eight male and female cyclists competed in the 53-mile race for gold watches, plus cash prizes for best lap times. With wet pavement, conditions were not ideal for a record-breaking pace.
With a time of 2:15:57.38, first-place winner Eric Lundgren, formerly of Smethport (now residing in Pittsburgh), greatly outdistanced all rivals on the last lap of the 53-mile circuit to take the gold watch for the men's competition. The course record of 2:05:41.57 was set last year by Jeremy Wickham of Corning, New York.
Lenore Pipes from Ithaca, New York, was the first-place winner of the 53-mile race women's competition with a time of 2:16:34.33. She took 1st Place last year with a record-setting time of 2:06:00.65.
Thirteen cyclists on the 53-mile circuit were not able to finish the race. One rider went down after the turn from Galico bridge and suffered a dislocated shoulder. He was picked up by Priority 1 ambulance service and taken for medical treatment.
Jeff Andrulonis of Colonial Media + Entertianment was the announcer for the event. Timing services were provided by Yellow Jacket Racing out of Rochester, New York. Check their website for complete results of the 53 Mile Race, 15 Mile Ride and 7.5 Mile Ride.
The awards were presented during a barbecue at the Smethport Fire Hall where local guitarist John Meade provided entertainment during the festivities.
The event raised an estimated $6,250 for the Smethport Fire Department from title sponsors Buckler Transport Inc. of Roulette, and Zippo Manufacturing and Kessel Construction, both of Bradford.
Share on Facebook
Bradford Era — by Fran De Lancey
Knowing the story behind the Star-Spangled Banner would prompt people to show more respect to our national anthem, said Smethport Area High School band director Matt Bailey, in remarks prepared for the McKean County Historical Society's annual dinner meeting Thursday at the East Smethport United Christian Church.
"Have you been to an athletic or patriotic event and as someone was performing the national anthem, people around you were not even paying attention?" he asked the more than 50 people in the audience. "Perhaps they didn't have their hand over their heart or hadn't even removed their hat and not even looking at the flag, just disengaged and disconnected. Read More »
Share on Facebook