Borough News
Smethport Web — by Nathan Muller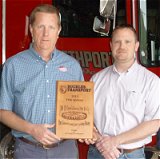 David Buckler, president and owner of Buckler Transport in Roulette, PA, gave a record donation of $2,000 to the 2014 Wheel Around the Hub Cycling Races, proceeds of which benefit the Smethport Fire Department. Buckler presented the check to Smethport Mayor and SFD Captain Wayne Foltz, Fire Chief Steve Field, and wheel race organizer Ross Porter.
Buckler Transport operates a fleet of 83 trucks and a 150,000-square-foot climate controlled warehouse that exclusively serves Verallia Corporation in Port Allegany, a producer of spirit bottles normally destined for the wine producing areas of the Finger Lakes or in Ontario.
Wayne Foltz presented David Buckler with a wood plaque to commemorate his participation as a Title Sponsor of this year's cycling races. The historic 53-mile, 7-circuit Gold Watch cycling races will be held in Smethport on Saturday, September 13th.
Buckler said he was happy to make the donation because the races bring participants from all over the world into our communities, which is good for businesses and residents.
Check out the sponsors of this year's Wheel Around the Hub event »
Share on Facebook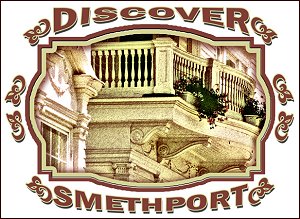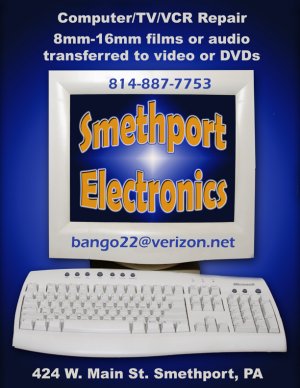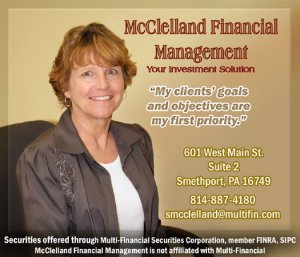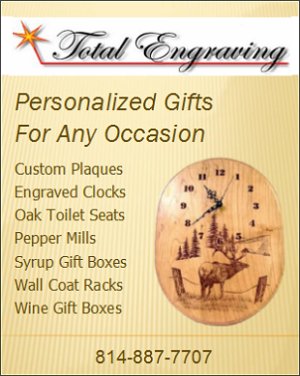 SUPPORT YOUR LOCAL LIBRARY
Please consider a tax deductible donation to the Hamlin Memorial Library. You can donate online - any amount is welcome. You'll get a receipt via email. The library is a recognized charitable organization under section 501(c)(3) of the Internal Revenue Code.
If you prefer, you can send a check by mail at any time using this form.

Become a fan of the library on Facebook and learn about upcoming events.
Newspaper Archives Available
An archive of local newspapers, from 1833 to 1978, is available for viewing online or through microfilm at the Hamlin Memorial Library. Every newspaper in the online database is fully searchable by keyword and date, making it easy to quickly explore historical content. You can also order a full page copy on heavy paper. smethport.newspaperarchive.com
More to do in Smethport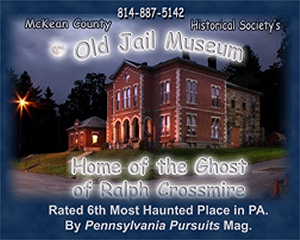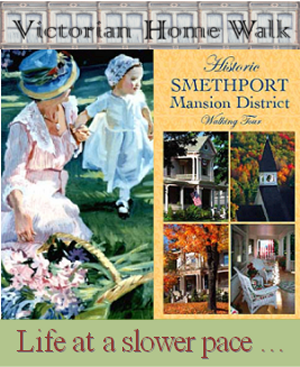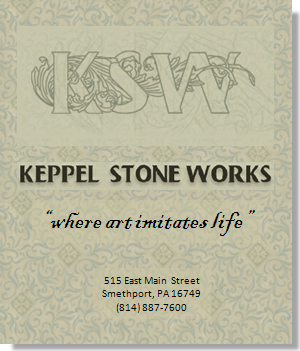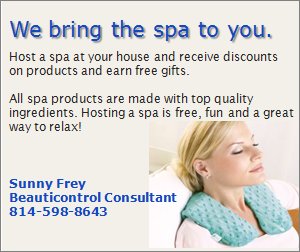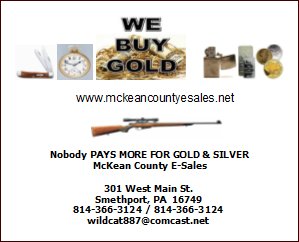 Specializing and Experienced in Estate & Downsizing Sales and After Sale Clean Up
Organization, Decluttering, Home Beautification & Curb Appeal of Your Home or Business
In need of these services? Contact Ric Toner
814-203-6492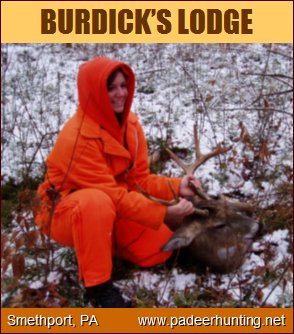 FYI...
Home Sweet Homes Tour October 11 from 1 - 4:00 pm. Tickets $10.00 at Lightwaves Engraving. Day-of-tour tickets on sale at St. Elizabeth's Catholic Church starting at 12:30 pm, plus refreshments. Tour consists of 4 homes, 2 businesses and 1 church. For more information, call Mary Wright at 814-887-8753 or Shirley Good at 814-887-2394.

Visit Smethport's YouTube Channel.
Note: Click images below for enlargements, slideshows, audio, and other information!
Bradford Era — by Fran De Lancey
Knowing the story behind the Star-Spangled Banner would prompt people to show more respect to our national anthem, said Smethport Area High School band director Matt Bailey, in remarks prepared for the McKean County Historical Society's annual dinner meeting Thursday at the East Smethport United Christian Church.
"Have you been to an athletic or patriotic event and as someone was performing the national anthem, people around you were not even paying attention?" he asked the more than 50 people in the audience. "Perhaps they didn't have their hand over their heart or hadn't even removed their hat and not even looking at the flag, just disengaged and disconnected. Read More »
Share on Facebook
Bradford Era — by Fran De Lancey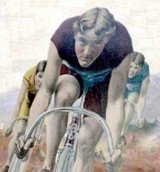 Cyclists will be racing for the gold watches Saturday in the annual "A Wheel Around the Hub," which has always attracted an impressive number of racing enthusiasts, many from foreign countries, to Smethport since it was revived in 2005.
Staging for the seven circuit, 53-mile gold watch race and the two-mile, two-circuit Fun Race is 11:45 a.m. in front of the McKean County Courthouse on West Main Street. The start of the 53-mile race is noon, with the Fun Race to follow immediately. Read More »
Share on Facebook
Smethport Web — by Barbara Bowman
The McKean County Historical Society is featuring McPaint Time at Flickerwood Winery, Kane, September 18, from 6 to 8 pm.
McPaint Time is an evening of socializing creatively. The event is partially funded by the Bradford Area United Way in conjunction with the McKean County Historical Society.
Smethport artist Judy Leasure will lead participants in painting "The Pumpkin Patch," an acrylic painting on a 5 x 7 canvas board.
Please call the McKean County Historical Society at 814-887-5142 to register. The $20.00 fee includes all materials.
Share on Facebook
Smethport Web — by Nathan Muller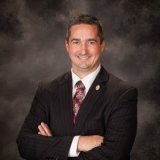 The FCC in Washington has upheld a previous staff ruling that allowed Colonial Media + Entertainment to put four FM stations on the air in Olean, NY despite objections from a competitor that previously owned WPIG (FM).
Colonial Media + Entertainment President & CEO Jeff Andrulonis says the Federal Communications Commission ruling is a great day for area radio listeners.
"There used to be only two FM stations with a clear signal in Olean. We saw Olean as an underserved market. So our company's goal, when we entered the Olean market back in 2009, was to give listeners more choices on their FM dial. We were able to add four FM stations to the radio dial at 93.9, 96.7, 98.7, and 99.1."
Andrulonis said the new radio stations immediately attracted listeners and advertisers. "Unfortunately, a competitor chose to file seven different objections with the FCC in an attempt to bog down Colonial with legal and engineering fees."
"We fought back and the FCC ruling is a victory not only for Colonial, but also for every radio listener in Cattaraugus and Allegany counties," Andrulonis said.
Share on Facebook
Smethport Web — by Annie Wolfe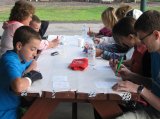 The Guidance Center's Big Brothers Big Sisters of McKean County held their Summer Picnic on July 16th at Hamlin Lake Park in Smethport. The Smethport Rotary Club sponsored the event.
Rotary Club members helped Big Brothers Big Sisters staff with set up, clean up, and facilitated the Bingo game. Patch Products, Smethport's local toy factory, graciously donated prizes for all who attended. Trooper Dan Woods of the Kane Based State Police conducted an interactive safety presentation for participants. Non-perishable food items were collected and donated to the Smethport Food Pantry.
Big Brothers Big Sisters of McKean County has 52 children waiting to be matched with a Big Brother or Big Sister. If you would like to volunteer with the Guidance Center's Big Brothers Big Sisters Program, please call locally: 814-887-5591 or toll free: 1-877-776-1636.
Share on Facebook
Bradford Era — by Fran De Lancey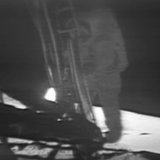 Bart Barton will present "45th Anniversary of Man on the Moon" at 7 p.m. Thursday in the large courtroom of the McKean County Courthouse in Smethport.
Sponsored by the McKean County Historical Society, the program is free and open to the public.
Barton will supplement his presentation of Apollo 11's assembly, launch, trip to the moon and safe return to Earth with a plastic model of the rocket and original photographs by his late father, Bill Barton, a Smethport native and a photographer for Technicolor, a Kodak Company, that was under contract with the National Aeronautics and Space Administration. Read More »
Share on Facebook
Smethport Web — by Barbara Bowman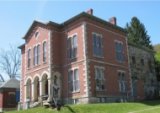 McPaint Time is a fun, relaxing way to socialize while being creative. During McPaint Time attendees complete an acrylic painting in two hours or less. You may make new friends and find a new hobby.
The first venue for McPaint Time was the Corner Pizza Company, Smethport. Ten people attended and painted a 10×10 acrylic painting of a cone flower. Some artists decided to paint their own creation: a door, an abstract, and a chicken. It was a blast and a lot of creativity was found! Read more »
Share on Facebook