Borough News
Smethport Web — by Nathan Muller
The McKean County Fair kicked off activities this weeknd with a tractor parade down Main Street from Isadore's Farm to the fairgrounds.
The weeklong fair in East Smethport — from Saturday, August 15th to Saturday, August 22nd — features games, food, competitions, rides, and exhibitions.
Share on Facebook
Around the Forest Region
Bradford Era — by Fran De Lancey
Officials from the state Department of Conservation and Natural Resources and the 106 Group provided updates and a project overview of the new office/visitor center at Kinzua Bridge State Park during an informational open house held on Wednesday at the Mount Jewett Volunteer Fire Department.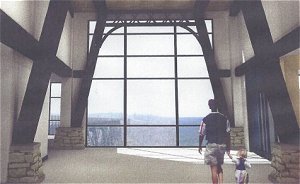 "There are two floors to the building," said Terri Kromel, chief of the Division of Outdoor Programming Services, when she spoke with The Era. "On the first floor will be the lobby, receptionist area, gift shop and the exhibits showing the 'Bridge Builders.' East of the lobby will be the offices for the park staff and administration. Read more »
Share on Facebook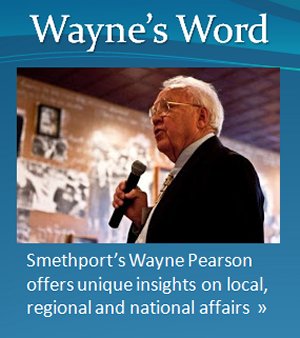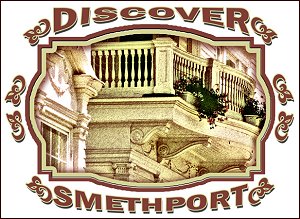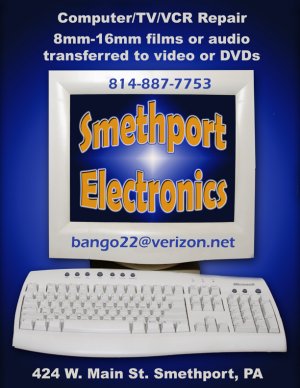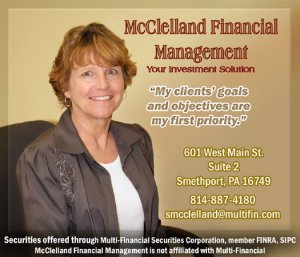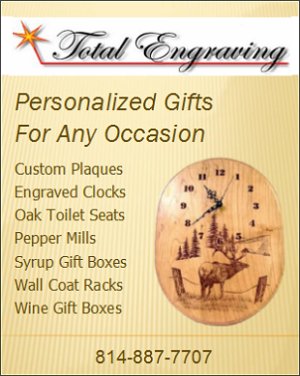 SUPPORT YOUR LOCAL LIBRARY
Please consider a tax deductible donation to the Hamlin Memorial Library. You can donate online - any amount is welcome. You'll get a receipt via email. The library is a recognized charitable organization under section 501(c)(3) of the Internal Revenue Code.
If you prefer, you can send a check by mail at any time using this form.

Become a fan of the library on Facebook and learn about upcoming events.
Newspaper Archives Available
An archive of local newspapers, from 1833 to 1978, is available for viewing online or through microfilm at the Hamlin Memorial Library. Every newspaper in the online database is fully searchable by keyword and date, making it easy to quickly explore historical content. You can also order a full page copy on heavy paper. smethport.newspaperarchive.com
More to do in Smethport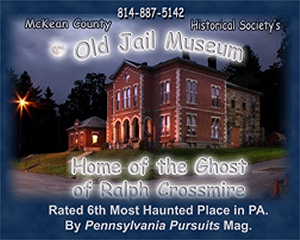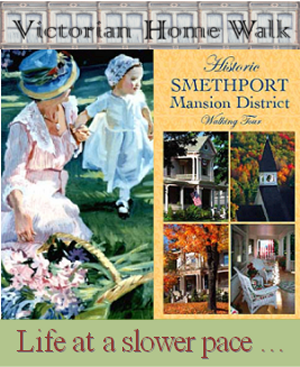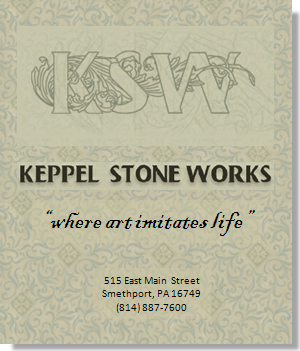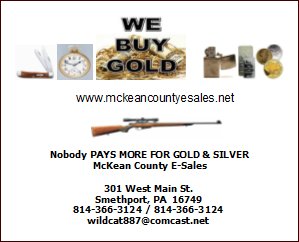 Specializing and Experienced in Estate & Downsizing Sales and After Sale Clean Up
Organization, Decluttering, Home Beautification & Curb Appeal of Your Home or Business
In need of these services? Contact Ric Toner
814-203-6492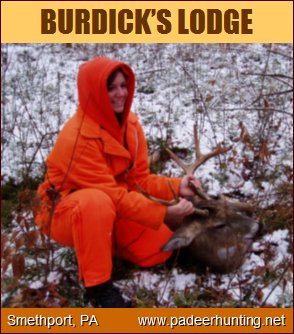 FYI...
GRAND OPENING - Please stop in at Sena Kean Manor as it celebrates its new Transitional Care Unit at 17083 Route 6 in Smethport. Everyone is welcome to the Open House on Thursday, September 10th from 2:00 pm. to 4:00 pm.

Visit Smethport's YouTube Channel.
Note: Click images below for enlargements, slideshows, audio, and other information!
Smethport Web — by Nathan Muller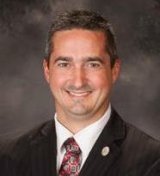 Smethport's Jeff Andrulonis, President & CEO of Colonial Media + Entertainment, has announced that another radio station will be coming to Bradford.
The company has filed an application with the Federal Communications Commission (FCC) to build a 900 watt booster station in Bradford for McKean County's Country Station — Bob 103.9 (WBYB). The booster station will also broadcast on 103.9FM, which will be licensed to Bradford. The booster will broadcast the Bob 103.9 signal from the top of Colonial Media's new building at 53 Main Street.
WBYB will provide a crystal clear signal into Bradford and Foster Brook, while the main signal on Prospect Hill between Smethport and Port Allegany will continue to cover the rest of McKean County. Expected approval date from the FCC is approximately 60-90 days.
Earlier this summer, Colonial launched the first new radio station in Bradford in over a decade as the 99.3FM signal began broadcasting "Hot FM," a Top 40 station playing Today's Hit Music by stars like Maroon 5, Taylor Swift, and Meghan Trainor. "Hot FM" is also heard in Smethport, Port Allegany, and Eldred on 95.3FM.
Share on Facebook
Smethport Web — by Nathan Muller
In the ivory towers of the nation's media elites, there is growing anxiety about who is responsible for a massive Wooly Willy hack attack that seems to be waking millions of TV viewers from their evening stupor. The FBI has weighed in with its own answer, strongly implying that it was the work of China, where Wooly Willy magnetic toys are now manufactured.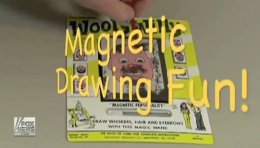 The FBI has contacted all major media outlets, providing technical details of the Wooly Willy malware and how it works. Director of National Intelligence James Clapper has publicly called China the "leading suspect" in the Wooly Willy hack, but he hasn't offered any evidence to substantiate those claims, citing "national security".
The FBI is warning U.S. broadcast media to be on the lookout for the malicious computer program, which first surfaced in a recent Fox News story about the Apple Watch. The clip in which Apple CEO Tim Cook appears is suddenly interrupted by Wooly Willy.
View the Fox News video! Wait 50 seconds to see how Wooly Willy messes with Tim Cook's presentation.
The FBI's FLASH alert says the bureau has identified "cyber actors who are using Wooly Willy malware to mock mainstream news, inserting the image of Wooly Willy to steal the attention span of viewers away from issues of national insignificance." According to the FLASH alert, "The magnetic personality of Wooly Willy has proven to be an irresistible attraction, requiring government response."
Experts believe the ultimate purpose of the Wooly Willy malware is to recruit other toys to its cause. "We can only imagine the havoc GI Joe, Barbie, and the Cabbage Patch Kids can wreak upon our national communications infrastructure if they become weaponized in this way," said U.S. Chief Information Officer Tony Scott, who has been working to restore public confidence in federal cybersecurity by urging government employees to display their computer passwords on post-it notes to facilitate information exchange.
Congressional reaction to the Wooly Willy hack is one of outrage. Sen. Mark Warner, D-Va., one of six co-sponsors of a bill to install listening devices in the bathrooms of every American home for signal collection and analysis by NSA, said: "If we want to be better prepared to meet this threat in the future, we have to make sure that the Department of Homeland Security has the tools it needs to adequately secure our federal and civilian networks against the Wooly Willy hack. We will not tolerate these intrusions."
Meanwhile, security experts are treating Wooly Willy as a persistent threat and advise all computer users to be fearful: "If you see something, say something!"
Share on Facebook
Smethport Web — by Ross Porter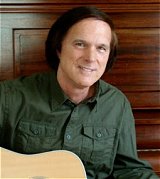 THIS EVENT HAS BEEN CANCELED DUE TO A HEAVY RAIN FORECAST
The classic rock band "Every Tom, Jeff and Larry" comes to the Smethport Chamber's Wooly Willy Wonderdaze Street Dance this Saturday night from 7:30 -10:30 pm. The band, featuring musicians Tom Shaffer, Jeff Kazimer, and Larry Herbstritt, will perform a very danceable, listenable and memorable musical journey through the 1960s and 70s. Bring your coolers, chairs and dancing shoes.
Coudersport, PA native Larry Herbstritt, "songwriter for the stars," is lead for the band.
Larry burst onto the local scene as "Ollie," the leader of the '60s rock band Ollie and the Go Gos. He went to become a prominent songwriter and music arranger. Some of his compositions, include "I Just Fall in Love Again" and "Cowboys and Clowns," became number one hits, performed by Anne Murray and Ronnie Milsap, respectively.
He continues his songwriting career with ties to Nashville and Los Angeles. Among his accomplishments as a songwriter, arranger and producer…
Wrote the hit songs:
"I Just Fall In Love Again" - Anne Murray
"Cowboys And Clowns" - Ronnie Milsap
"Easy Love" - Dionne Warwick
"Fire In The Morning" - Melissa Manchester
Score Composer for:
Dudley Do-Right
Alien Nation
Spenser for Hire
Murphy Brown
Tequila Body Shots
Murder She Wrote
Bronco Billy
Growing Pains
Just the Ten of Us
Major Dad
Rustler's Rhapsody
Waltz Across Texas
Orchestration credits:
Complete Score for: Blast from the Past
Warner Brothers Feature: Maverick
20th Century Fox feature: That Thing You Do
Warner Brothers feature: Pure Country
Hallmark Hall of Fame movie: Rose Hill
Hallmark Hall of Fame movie: Cowboy Dad
Feature film: Dancer Texas
Plan on attending the street dance/concert this Saturday night, June 27 in the 400 block from 7:30-10:30 pm.
Share on Facebook
Times Publishing Company — by Mike Bleech
My wife, Jeri, and I made an overnight trip to fish Marvin Creek in Smethport recently.
As it happened, that was just the right amount of time to find the trout and enjoy an excellent morning of fly fishing, with an overnight stay at a bed-and-breakfast rated as one of the best in the country.
Friday afternoon was spent hopping from access to access along Marvin Creek. This medium-size trout stream flows alongside Route 6, starting a little east from Mount Jewett. It is very well stocked with brown trout and rainbow trout from Hazelhurst to where it flows under Route 6 at Smethport. There, a small dam forms Hamlin Lake, which also is well stocked.
After flowing out of Hamlin Lake, Marvin Creek soon empties into Potato Creek at the opposite end of Smethport. Potato Creek and some of its tributaries also are stocked with trout. Read more »
Share on Facebook
Smethport Web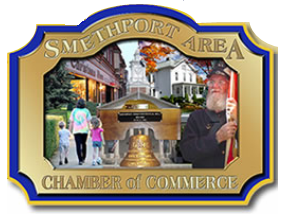 The Board of Directors for the Smethport Area Chamber of Commerce has announced officers for the 2015 - 2016 term:
President
Vicki Dunkle - Corner Bistro & Pizza Company
Vice President
Barbara Gee - Sena Kean Manor
Treasurer
Michael Montecalvo - Northwest Savings Bank
Secretary
Nathan Muller - Ascent Solutions
Director
Phil Smith
The Chamber organizes and sponsors over a dozen events and projects that promote the rich heritage of the community, making Smethport an attractive place to visit, do business and raise families.
The organization sponsors student scholarships to the PA Free Enterprise Week program at Lycoming College in Williamsport, Pennsylvania. Students receive more scholarship funds for attending the program and become eligible for an additional $20,000.
This summer, the Chamber will underwrite 5 scholarships to attend the PA Free Enterprise Week program. The following Smethport High School juniors have signed up for the program: Shania Anderson, Autumn Haney, Natalie Mix, Andrienne Nannen, and Stone Page.
Other Chamber activities include: sponsoring the annual town-wide yard sale, organizing the annual street dance, supporting area businesses with advertising in the Bradford Era and ANF Visitors Bureau literature, promoting Smethport with the Mansion District Walking Tour Brochure, organizing "Business After Hours" events at local establishments, sponsoring Christmas "Light Up Night" activities, publicizing member events through websites and social media, offering free banner ads for businesses on the Borough website, maintaining two literature kiosks, updating the Chamber and Borough websites, and contributing to other community events such as the Easter Egg Hunt and Wheel Around the Hub Cycling Races.
Businesses and other organizations that would like to join or renew their membership for 2015 - 2016, may do so at any time by submitting the membership form.
Questions about Chamber activities may be directed to Nathan Muller at 814-887-4134 or njmuller@comcast.net.
Share on Facebook
Share on Facebook
Smethport Web — by Nathan Muller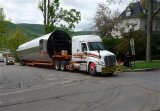 Smethport has grown accustomed to big rigs passing over Main Street, especially since the oil and natural gas boom in recent years.
Occasionally, these behemoths have knocked street lights out of commission, overturned utility poles and signs, and mangled countless tree limbs along their crawl to destinations far away.
The hairpin turn from Marvin to Main Street has proven to be a formidable challenge for most truckers, with some achieving success only after several trial-and-error attempts. Tired of the long wait, vehicles in both directions usually give up and head for the side streets.
This week, an unusually long flatbed approached the hairpin hauling a stainless steel silo of titanic size headed for Mainesburg. Instead of hoping for the best, the truck driver and escort crew pulled over well ahead of the turn and got out to plan the approach.
The plan included using the flatbed's hydraulic lifters to clear the slope on Marvin Street on the way to Main Street. The degree of difficulty was such that Smethport Police Chief Pat Warnick was on the scene in case things didn't go as planned.
After everyone returned to their vehicles, the flatbed moved according to plan, making a slow but perfect turn onto Main Street, leaving onlookers quite impressed with the driver's skill.
Click on the image above to view the slideshow documenting this outstanding performance.
Share on Facebook