Smethport Web – by Nathan Muller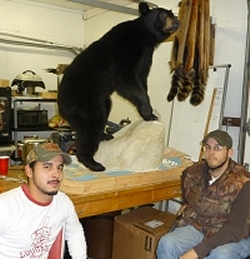 When two Smethport High School buddies pursued their interest in taxidermy years ago they dreamed of one day opening their own business. Three months ago, Bryan Burdick (class of 2001) and Sergio Herrera (class of 2002) finally opened the doors to their joint venture, Timber Ghost Taxidermy, on Route 59 across from the Smethport Country Club.
View the Big Buck Contest, displays, and guests at Timber Ghost Taxidermy.
To polish their skills and gain a solid foundation to start their own business, the two entrepreneurs attended the Pennsylvania Institute of Taxidermy in Ebensburg where they completed 920 hours of training over 30 weeks.
Their hard work has paid off with a thriving operation that proudly displays award winning mounts, including Sergio's large mouth bass which took first place in several categories at a show sponsored by the Pennsylvania Taxidermy Association.
Sergio is an Army veteran who served two tours in Iraq. His younger brother Lorenzo was called to active duty earlier this year and is set to leave for Iraq in a few weeks. On hand at the shop was Fred Robson, Sergio's stepfather who works with the National Forest Service.
According to Bryan, a deer mount takes about 8 months from start to finish. "Right now the hides are salted and sent out for tanning, which can take four months or longer," he said. Bryan and Sergio plan to buy their own high pressure tanning system, which will reduce the lag time from 4 months to just 4 hours.
On Saturday, Timber Ghost Taxidermy chose the winner of its Big Buck Contest. Minutes before announcement of the winner, Sandy Curran of Ormsby excitedly brought in a 9-point buck she had put down after only one hour in the field. Sandy is an accomplished hunter, having previously taken a doe and a fall turkey.
As impressive as Sandy's late entry was, the prize of a free mount for the highest scoring buck went to Charlie Brown of Smethport, who had already entered the contest with a 10-point buck.
There was also a general drawing for a free mount, with Fred doing the honors picking the winner from a bowl. Anyone who brought a legally tagged buck to the taxidermy shop prior to the close of the firearm season was eligible for the free-mount giveaway. The winner of the drawing was Jerry Dickson of Clearfield.
Bryan and Sergio welcome visitors to their shop anytime. Whether you're a nature photographer, hiker, hunter or angler, they'll be happy to share their extensive knowledge of the local terrain, animal populations and fishing spots as you browse mounted specimens in the display area.
Timber Ghost Taxidermy
13002 Route 59
Smethport, PA 16749
814-887-5690