Smethport Web – by Nathan Muller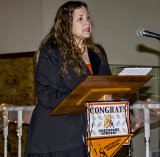 The Smethport Area Chamber of Commerce held its 12th Annual Business Dinner last week at the Court of Angels restaurant. Chamber president Jovanna Porter greeted guest of honor Coach Daniel Zeigler and the Smethport Hubbers Basketball team. Accoustic guitarist Ade Adu provided the evening's music.
During her remarks, Jovanna Porter spoke about community cooperation; specifically, about building an environment of cooperation where multiple groups and organizations can network successfully to leverage the greatest benefits.
"Smethport has a long history of community groups working in tandem with each other," she said. "We have a strong culture of volunteerism, starting with our local public officials."
She cited the Borough Council and Mayor who serve without pay for their services, as well as members of the Smethport Fire Department. "The community team, not unlike the basketball team, only works because the individuals understand the importance of teamwork and cooperation," she said.
"It is my goal for the Chamber is to facilitate cooperation, and to encourage participation between civic groups and local businesses to co-plan complimentary events."
Porter said simple steps can show big gains: "Ideas as simple as arranging a sidewalk sale, or a special drink or desert option on bike race day have the potential to increase visitor traffic to local businesses. Civic groups might plan a craft or skill demonstration or sale as a fund raising opportunity. Leveraging the events that are already in place would improve the economic impact for all concerned and make for a vastly more interesting day for everyone."
Smethport already demonstrates cooperation within various groups, she said. "Everyone gains from this networking. Greatness can be achieved when divergent people come together to work cooperatively."
Coach Daniel Zeigler introduced the members of the Hubbers basketball team and cited the unique contributions each player made toward achieving a record-setting season that will serve as the yardstick for future teams.
The coach shared one of the takeaways from the season that could just as easily apply to community affairs as to team sports: "Average effort produces average results. Exceptional effort produces exceptional results."
The evening included presentations of awards by Jovanna Porter to the following recipients:
C.L. McKeirnan, Inc. – Business of the Year
Anne Potter – Volunteer of the Year
Smethport Historical Society – Community Service Organization of the Year
In addition a commemorative plaque was presented to Hamlin Bank in recognition of its 150th anniversary. The wood carved plaque was created by Thomas Weiser of Total Engraving in Smethport.