The 1950s style soda fountain at the Smethport Senior Center is now open, serving soft drinks and ice cream on a Wednesday-through-Sunday schedule, from 1 to 8 p.m. Through the first week of October visitors can enjoy cones, floats, sundaes and shakes for suggested donations.
The shop is staffed by volunteers, including Robin Miller and Terra Sharro, who have selected this as their high school graduation project.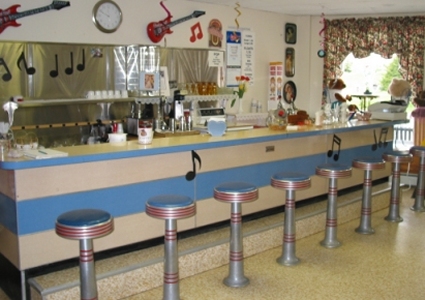 The restoration project, coordinated by Phillis Barnhart and Greer Barr, relied on donations and volunteer efforts to bring the soda fountain back to life in the former Munn Building at 119 W. Main Street. The building was constructed in 1921 by L.E. Munn, who ran it as a confectionery, ice cream store and restaurant.
In the 1930s, the building was home to Halpenny's Bar, Grill and Restaurant.  The building is now owned by the Elderberry Club and is home to the Senior Center and Visitor Center.
The building came into public use as the result of a donation by the late Helen Harmon of Smethport, who stipulated that the soda fountain always remain as a feature of the building.
There will be an official ceremony for the opening of the soda fountain on Saturday, June 14th, from 1 pm – 2pm. There will be a live music performance.