Smethport Web — by Nathan Muller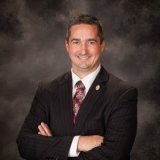 Colonial Media + Entertainment, an integrated marketing organization headquartered in Olean, NY, has announced that its President/CEO, Jeffrey M. Andrulonis from Smethport, has been elected Chairman of the Board of Directors of the Pennsylvania Association of Broadcasters for 2015.
Since 1939, the PAB has been the voice for the Commonwealth's radio and television broadcasters.
As Chairman, Jeff will spend the year overseeing the statewide association, which is headquartered near Harrisburg, PA. He also heads the Executive Committee for the PAB, having been elected to the position at the Board of Directors meeting in Hershey earlier this month.
As head of Colonial Media + Entertainment, Jeff oversees eight FM Radio stations, numerous websites and social media, event marketing operations, and an ad agency – all focused on promoting local businesses throughout the Twin Tiers region.