Smethport Web — by Julie Mader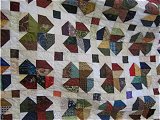 The meeting room at the Hamlin Memorial Library will be transformed into a tea house on April 15th and 16th when the Smethport Piecemakers Quilt Guild hosts a "Bear Mountain Herb Tea Tasting" and Quilt Show.
The event will showcase quilts made by the guild members and feature organically grown teas blended by Helene and Stash Nawrocki from Genesee, Pennsylvania.
Helene will be on hand at the tasting to answer questions about her teas and have available seasonal and medicinal teas, balms and mists for sale. Children attending with an adult are welcome at the affair, which will include a tasting of savories, scones and deserts.
This event corresponds with the final two days of raffle tickets being sold for the lovely "Wood Clover" king size quilt that was made by the Smethport Piecemakers as a fundraiser for operating costs of the Hamlin Memorial Library. Raffle tickets for the quilt are currently available at Hamlin Library, where the quilt is on display in the meeting room.
The drawing of the lucky quilt winner will be made at the conclusion of the 3:00 pm tea seating on Saturday. Quilts will be on display along with small sewn and quilted items created by members of the guild that will be available for sale during the event.
Tickets for the tasting are available for $10 each at Hamlin Memorial Library in Smethport, during regular library hours. Event Seating Times are: Friday, April 15th at 7:00 pm and Saturday, April 16th at 10:30 am, 1:00 pm and 3:00 pm. Please contact the library at 887-9262 for additional information.