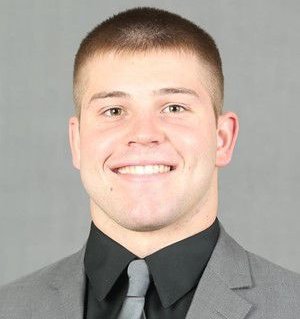 Smethport Web — Allstate AFCA Good Works Team
Allstate Insurance Company and the American Football Coaches association have announced the 22 college football players and honorary head coach named to the 2017 Allstate AFCA Good Works Team.
Edinboro University's Ryan Stratton, a graduate of Smethport Area High School, was one of the 22 honorees, the first time an Edinboro player has received the prestigious award. This award spotlights the incredible stories of selflessness and community service displayed by the 22 student athletes and honorary head coach and honors their dedication to volunteerism and enriching the lives of others.
In order to meet the criteria set forth by Allstate and AFCA, each player had to be actively involved with a charitable organization or service group, while maintaining a strong academic standing.
The Good Works Team award is one of the most coveted off-the-field honors in college football. The voting panel consisted of former Good Works Team members, including two-time national champion, Heisman Trophy winner and 2009 Allstate Good Works Team member Tim Tebow and prominent college football media members.
The committee narrowed down the 146 nominees from NCAA Divisions I, II, III and NAIA schools to the 22 student athletes plus honorary head coach.
A native of Smethport, Stratton has achieved success both on and off the field. He maintains a 3.85 grade point average as a dual major in middle level mathematics and special education.
During the summer, he was featured in a story on the Pennsylvania State System of Higher Education website that recognized his achievements.
As a member of the EU football team, Stratton was a key player in last year's rise from an 0-11 finish in 2015 to a 9-2 record in 2016, setting a Division II record for the largest turnaround in a season.
In 2016, Stratton played in all 11 games at tight end, starting three. He finished with one reception for six yards.
This season, he is the top tight end on a Fighting Scot team that was off to a 2-1 start.
Stratton began his career at EU in 2015 as a linebacker recording 28 tackles, while starting four contests and playing in all 11 games.
In February, he received the inaugural Dr. Joseph Laythe Award, presented by college President Dr. H. Fred Walker in recognition of Stratton's dedication to championing justice through both on- and off-field campus contributions. This new award was created in honor of Laythe, a well-loved EU history professor who died in March 2016 after a courageous battle with cancer.
Stratton has a long list of community service projects, He regularly volunteers to participate in dances organized by the Barber National Institute in Erie. He provides support for unified track and field in the General McLane School District and helped build a school for the deaf while on a mission trip to the Dominican Republic last winter.
During the 2016 football season, Stratton organized a "12th Man" program through which a local student with a disability or recovering from a life threatening illness joined the football team as an honorary member at each home game. At the end of the season, he organized a banquet for the "12th Man" participants. This tradition has continued this year, and plans once again include a season-ending banquet. As a member of ROTC, Stratton has been involved in numerous activities, including making food packages for homeless veterans. Additionally, he formed a group of football team members this year who go to Erie on Sundays to help feed the homeless. Stratton is a member of the Football Leadership Council. He has served as a tutor for SAAP, a peer-assisted tutoring program on campus that assists students with tests and organizational skills. He is also a leader of the FCA Bible study on campus.
The 2017 Allstate AFCA Good Works Team will be invited to New Orleans to participate in a special community service project ahead of the Allstate Sugar Bowl where the entire team will be recognized on the field at halftime. In addition, Allstate will honor the Good Works Team by creating special volunteer events in select markets throughout the season in conjunction with its "All Hands In" program, which encourages the college football community to come together to do good.
The following players and honorary head coach have been named to the 2017 Allstate AFCA Good Works Team: Football Bowl Subdivision — Dan Carlson, Auburn University; Gabe Brandner, Duke University; Mavin Saunders, Florida State University; Brent Stockstill, Middle Tennessee State University; A. J. Cole, III, North Carolina State University; Brandon Smith, The Pennsylvania State University; Harrison Phillips, Stanford University; Shaq Jones, University of Alabama, Birmingham; Aaron Davis, University of Georgia; Courtney Love, University of Kentucky; Tommy Openshaw, Vanderbilt University.