Smethport Web — by Les Jordan, Jr.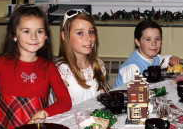 Members of the Smethport Garden Club hosted a Saturday, Dec. 5th brunch at St. Luke's Episcopal Church.
The brunch included Christmas songs played on the piano by Katie Barr and Felicia Alfieri. Katie is home schooled and Felicia is a student at Smethport Area High School.
Plenty of home-made food and baked goods were provided for guests attending the event.