Smethport Web — by Mandi Wilton Davis
It's not too late to make a lasting impact on the lives of so many in the Smethport community. As the holiday season is upon us, we are reminded of just how thankful we are for all we have been blessed with, and our thoughts turn to those in need.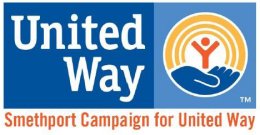 We are inching so close to our goal of $15,000, having raised more than $13,000 so far. We expect more agencies to look to the Smethport Campaign for United Way to make their programs and services possible; agencies that are heavily relied upon in this community.
Here is one great example of what your donations are doing to impact our community, from Lori Rounsville:
"The Hamlin Library depends on the United Way for our Summer Reading Program t-shirts, as well as craft supplies, both for summer reading and our monthly family night program. We average 85 kids for summer reading — if they attend four times, they get a t-shirt, free, thanks to UW. We could never afford to buy them ourselves and many of the families would not be able to purchase them. Our monthly family night programs have variable attendance, but the one of the most popular is Plate Night. It's usually our first one in October—this year over 60 people attended. The kids/family design a plate and it's sent out to the MAKIT company. They get a keepsake that lasts virtually forever. The United Way underwrites one plate/family…additional plates are $6. The United Way has a HUGE impact on our programming — and our library in general!"
We ask that you give serious consideration to making a donation this year. It is easy to make a difference in someone's life… To make a pledge or generous donation to the Smethport Campaign for United Way, call 814-368-6181.