Smethport Web — by Ross Porter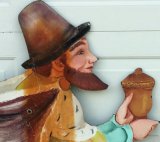 The donation from Seth and Lynn Digel was magnificent for the Hamlin Memorial Library's 2015 Auction during March. The Digel's donated an extremely rare, and much sought after, 1950s hand-painted Smethport Johnson nativity scene.
Entrepreneur Leonard Brynolf Johnson began producing unique, hand-painted Christmas displays as early as 1936 and by the 1950s Johnson's "Christmas Store" was shipping the artisan created displays – both religious and Santa Claus secular – internationally. His unusual displays were even shipped to the United Nations in NYC and to the Hague in the Netherlands. So when the Digels brought the original display to the Hamlin Library the directors were thrilled.
But there was one problem…
The display only had two of the three Wise Men! The value of the display would plummet if it were incomplete. It would be most "unwise" to market a nativity missing one of the Wise Men. So the March 14, 2015 library auction arrived. Realizing that an incomplete nativity scene would hold much less value than a completed set, Smethport juried artist Julie Mader stepped forward to volunteer to accurately recreate the missing "wise guy".
The set sold with extremely active bidding at the auction that night as a result of Mader's exceptional creativity. Loud applause followed as those present clapped and celebrated Smethport matriarch Anne Digel Potter's high bid to purchase the rare set.
The Johnson nativity set is being shipped, complete with the Mader recreated Wise Man, to Scott Potter in Texas, son of Mrs. Anne Potter and the late Judge William Potter. Thanks to the generosity of Julie Mader, the now complete nativity scene will again be displayed for years to come.