Smethport Web — by Les Jordan, Jr.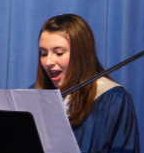 Smethport Area High School's annual Christmas concerts always draw a crowded auditorium. This year's presentation, "North Pole Rock'n Roll," is no exception. Over 125 students helped concert director, Nan McGraw, put on the show Tuesday evening, Dec. 15 (the show will be repeated on Wed., Dec. 16).
The concert featured the Smethport Concert Choir, the Music 'n Motion Show Choir, the Jr. Choir, and the 7th Grade Choir.
Traditional Christmas carols were blended with popular show tunes before ending with, "North Pole Rock'n Roll," performed by the show choir.
Those attending the concert were also delighted by several solos from various members of the singing groups.
Several area businesses donated various gift baskets as raffles to help raise funds for future concerts.