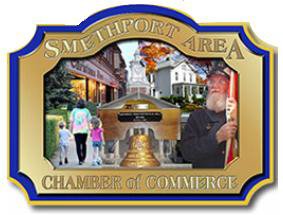 Smethport Web — by Les Jordan Jr.
The Smethport Area Chamber of Commerce invites all chamber members and other interested citizens to attend a special meeting on Thursday, July 28 at 6 pm at Chico's Restaurant to begin a process of reorganization.
Themes of the re-organization include developing a new focus for the direction the chamber wants to pursue such as:
Help to market the local businesses and community.
Continuing to maintain the focus of taking pride in the Smethport community and promoting the goodwill and closeness of this small town.
Return to our slogan of: Developing Pride in our Community.
Questions we will present to the members include:
How would you like to see us promote local businesses and community attributes?
What events would you like to see that will continue to build the camaraderie of this community?
What would a 2017 Smethport Chamber Festival look like? This was a staple of the old chamber, if it returned what would be a part of it in 2017?
The new chamber board hopes to structure how the board will function and maintain a leadership role, and in a manner that promotes positive openness and connection. The board wants members to know that it is providing direction for the chamber, its ideas, focus, and purpose.
President, Megan Simms
Vice President, Les Jordan Jr.
Secretary, Heidi Scrivo Passmore
Treasurer, Lauren Bly
Director, Phil Smith