Smethport Web — by Les Jordan Jr.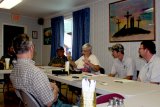 The Seneca Highlands Snowmobile Association met with representatives from county, state and federal agencies at the Smethport Senior Center on Friday afternoon, September 7th, to discuss trail expansion, including two bridges planned for the area.
The association was represented by Corky Hull of Smethport who has been active in trail development for the snowmobile group since it was formed.
Adam Mattis, Northwest Regional Advisor of DCNR, played a key role in advising the association concerning several issues about trail expansion and the processes required for preparing grant applications. Other agency representatives offering advice included Susquehannock State Forest District Forester, Chris Nicholas; Assistant District Forester, Eric Allenbaugh; and Recreation Forester, Cory Gulvas. Also present were Liz Krug, President of the Pennsylvania State Snowmobile Association, and Potter County PSSA Director, Amy Jacoby.
Ross Porter represented the Borough of Smethport. The snowmobile club is a standing member of the Potato Creek Trail Association, which is under Smethport Borough.
The snowmobile club discussed ways to submit a grant that would allow the club to build two steel bridges across waterways on its trail system through Smethport and East Smethport. One of the proposed bridges would be 115 feet long and cross Marvin Creek just east of the Veteran's Bridge on Mechanic Street. The second bridge would be 100 feet long, near the POW/MIA Memorial Bridge at East Smethport near the confluence of Marvin Creek and Potato Creek.
The second concern the club had was securing easement permission from private and public landowners to develop a 52 mile, 20 foot wide corridor trail system from the Allegheny National Forest near Lantz Corners through McKean County and then connecting with the Susquehannock State Forest in Potter County. The route through McKean County would then become part of the "Blue Line," which is a proposed state snowmobile route that is projected to travel across the northern tier of Pennsylvania.
Adam Mattis provided essential information on the process the club needed to follow in order to be considered for a "dollar for dollar" type matching grant from DCNR.
The club was advised to develop a plan that includes a map that illustrates the entire proposed trail system through the county that includes the ANF and an overlay of all property owners along the proposed route to the Susquehanna State Forest.
It was also suggested that the club meet with the property owners to gather details on the restrictions and requirements needed by them in order to acquire easements through their properties.
The third suggestion was for the snowmobile club to receive a survey that would be used in order to be eligible for the award of a grant from an appropriate agency.
Paul Althouse from the Roulette area's West End Trailblazer's snowmobile club and John Fox and his wife from the Potter County Snowmobile Association gave input at the meeting toward developing feeder trails to the proposed "Blue Line" trail route through McKean County.