Smethport Web — by Nathan Muller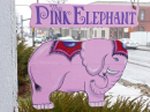 At the Pink Elephant Resale Shop bargains abound for women's and kids' clothing and shoes – all used, but in excellent condition. Some items even have the original store tags.
The shop resides in the oldest surviving commercial structure in Smethport – the Brownell building erected in 1858.
Now in its 33rd year at various locations in Smethport, the shop at 420 W. Main Street is known for its "bag sales." Patrons can scan the racks for suitable items and whatever fits into a paper grocery bag can purchased for just five dollars. Items can be purchased separately for two dollars.
One patron admitted that she shopped at the Pink Elephant not necessarily for the clothing, but for the fabric that can be used to make pillow cushions, curtains or tablecloths.
Pat and Jay Chapman co-manage the shop, which is operated by the Episcopal Church Women of St. Luke's Church. They take in clothing and shoes donated by residents of Smethport and adjacent communities.
The shop's receipts are used for church projects and to support other charities, including…
Smethport Food Bank
The Elf Fund
McKean County Children & Youth Services
McKean County Victims Resource Center
Shriners Hospital
Salvation Army
Friendship Table
Lions Club Eye Program
The shop distributes the money at Christmas time. Last year, the Pink Elephant distributed $12,666 among these groups, as well as St. Luke's Church.
The shop is open Tuesday through Thursday from 12:00 noon until 3:30 pm. On Saturday, the hours are 10:00 am to 12:30 pm.
Pat and Jay Chapman can be reached at 814.887.2050 or pipesmoker@hughesnet.net.