Memorial Day observance in Smethport, organized by the McKean County Post #2497 VFW, started with a gun salute and the playing of "Taps" over the graves of deceased veterans at Rosehill Cemetery. This was followed by a parade formed on Willow Street, which stopped at the bridge on Mechanic Street where wreaths were dropped and guns fired as part of salutations to heros.  
The parade resumed to Main Street and stopped at the county Courthouse where Rev. Max Simms, pastor of the Hilltop Baptist Church in Gifford, offered the invocation and benediction. The Smethport School Band played several pieces, including the "Star Spangled Banner".  Following the wreath placement and gun salute, students Jeremy Freer played "Taps" with Tom Weaver folowing up with the echo.

Retired Marine Corps Gunnery Sargeant George Tufts was the keynote speaker.  He described his memories of Memorial Day growing up in Erie, provided a brief history of Memorial Day, and read a poem (author unknown) about what Memorial Day means from the perspective of a fallen soldier. His entire speech is included in the Smethport Podcast (left).
Gold Star Mother Mrs. Clarence (Jean) Gregory and special guest Senior Master Sgt. David L. Mackey from Bradford were honored. Recently retired from the Air Force after 21 years of service, Mackey has many friends and relatives in Smethport, among them, his uncle Robert Funk, who was Officer of the Day.
Some photos of the day's events…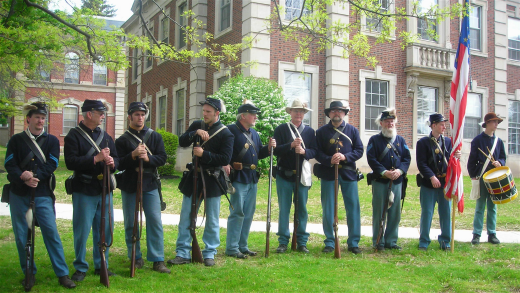 Bucktail muster.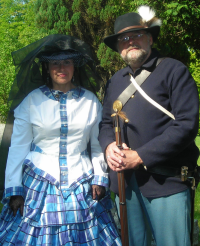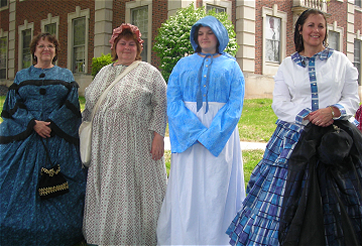 Jovanna and Ross Porter (left) and the Bucktail Ladies (left to right): Jackie Walker, Colleen Nobles, Jennifer Cannon, and Jovanna Porter (right).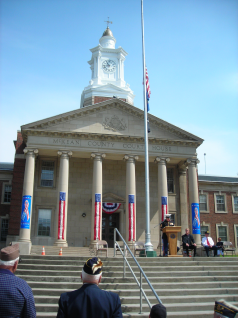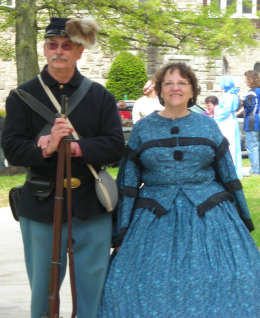 Courthouse (left) and Bucktails Larry Fox and Jackie Walker (right).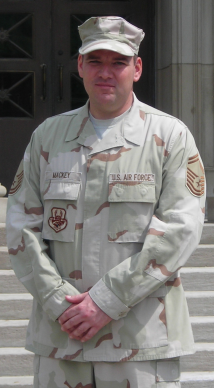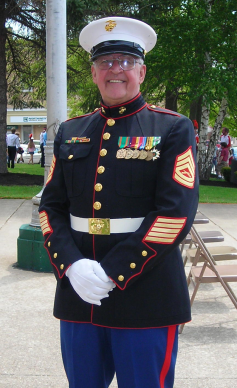 David L. Mackey (left) and George Tufts (right).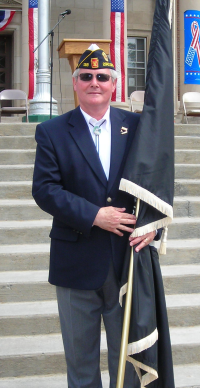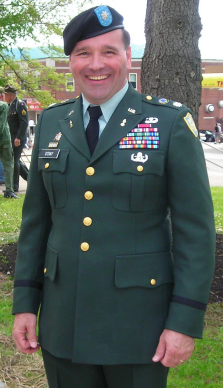 Jack Rosenswie (left) and Sean O'Day (right).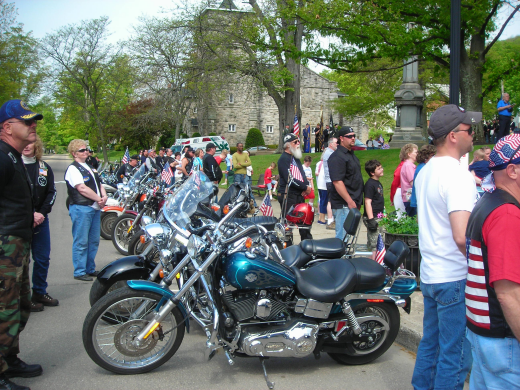 Bike muster.